Elected Region 2 Governor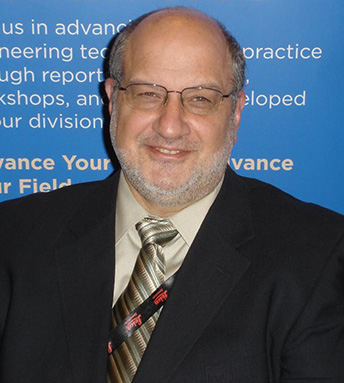 Vision statement
I had the great honor of working with many ASCE volunteers when I was employed by ASCE. Since my retirement from ASCE, I have remained an active volunteer supporting ASCE's Utility Engineering & Surveying Institute. If approved to serve as a Region 2 Governor, then I plan to assist the Region 2 Leadership in continuing to bring support to our members.
I also serve as a Program Evaluator with ABET accrediting civil and environmental engineering and engineering technology programs, both in the US and internationally. I would like to encourage the Region's involvement with undergraduate civil engineering programs and improve our support to our future members and leaders in civil engineering. This would include having members speak with the students on career opportunities and deliver presentations on engineering projects of interest to the students.
Finally, I would like to promote to our members the value of ASCE Institutes. While each ASCE member is provided one free membership to an Institute, not all ASCE members are joining an Institute and taking advantage. The ASCE Institutes are an important and valuable benefit that provides continuing education to our members.
Biographical statement
Education
BCE, Manhattan College, 1975
ME, Environmental Engineering, Manhattan College, 1977
MBA, George Washington University, 1984
Certification and licenses
Professional Engineer, Virginia
Board Certified Environmental Engineer, AAEES
Qualified Environmental Professional
Certified Hazardous Material Manager
Work experience
American Society of Civil Engineers

Director, Utility Engineering & Surveying Institute, 2015-2018
Director, Civil Engineering Certification, 2008-2015
Director, Technical Activities, 2001-2015
Senior Manager, Professional Practice, 1998-2001

Dewberry & Davis, Department Manager, Hazardous Waste Management, 1997-1998
Parsons Corporation, Senior Project Manager, 1994-1997
Battelle PNL, Senior Program Manager, 1992-1994
ERM, Senior Project Manager, 1989-1992
USEPA, Project Manager, 1980-1989
Manhattan College, Research Engineer, 1975-1980
ASCE involvement
Society-level
Chair, UESI Marketing & Membership Committee, 2019-2021; current member
Member, UESI Past Presidents Committee, 2019-present
Local-level
Treasurer to President, ASCE Bull Run Branch, 1983-1987
Governor, Virginia Section, 1987-1988
Other volunteer activities
ABET

Program Evaluator, Civil & Environmental Engineering and Technology Programs, 1992-present
Commissioner, Engineering Technology and Applied Sciences Commissions, 1996-2012
Executive Committee, Engineering Technology Commission, 2002-2004
Chair, Applied Sciences Commission, 2010-2011
Executive Committee, Applied Sciences Committee, 2008-2012

Member, AAEES Bylaws, Policies & Procedures Committee
President, Exeter Park II Condo Association, 2018-present
Secretary, Oxford Square Master Association HOA, 2020-present
Awards
ASCE-UESI Pipelines Division Award of Excellence, 2019
Publications
Authored/co-authored 15 technical papers in Water Quality Modeling and Hazardous Waste Management

, 1978-1989