Highway Pavement Committee
Purpose:
To gather, review, develop, evaluate, and present newly developed technologies and other information in the areas of Pavement Design, Construction, Maintenance and Rehabilitation. This information will be shared with the international pavement community, in a timely manner, in the form of technical presentations at conferences, ASCE sponsored publications, and other means of telecommunications. The committee will also partner with other entities from the industry and other Federal, State and local agencies to foster the delivery of the above services to the International Pavement Community.
Join ASCE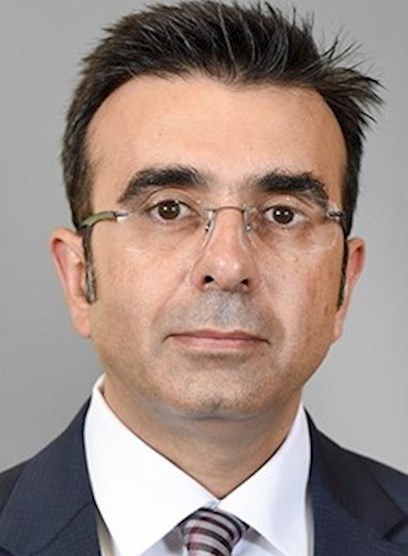 Meet the Chair
Hasan Ozer, Ph.D., A.M.ASCE
Hasan Ozer serves as the Chair of T&DI's Highway Pavements Committee. He is an associate professor in the School of Sustainable Engineering and the Built Environment. His research focuses on pavement materials characterization, pavement design and analysis, and development of rehabilitation and preservation programs. Ozer develops computational mechanics methods for structural performance modeling of pavements and uses life-cycle assessment tools for advancing sustainable transportation infrastructure.
Membership
Hasan Ozer

,

Ph.D., A.M.ASCE




Chair

Hossein Ajideh

,

Ph.D., P.E., M.ASCE




Associate Committee Member
A
Imad L Al-Qadi

,

Ph.D., P.E., Dist.M.ASCE




Member

Reza S. Ashtiani

,


Member
B
Amit Bhasin

,

A.M.ASCE




Member
C
Silvia Caro

,

Ph.D., C.Eng, P.E.




Member

Halil Ceylan

,

Ph.D., C.Eng, Dist.M.ASCE




Associate Committee Member

Karim Chatti

,

Ph.D., F.ASCE




Associate Committee Member
E
Mohamed Elkashef

,

Ph.D., P.E., M.ASCE




Member

Mostafa A. Elseifi

,

Ph.D., P.E., F.ASCE




Associate Committee Member
F
Ahmed Faheem

,

Ph.D., A.M.ASCE




Member

Eric Ferrebee

,

P.E., M.ASCE




Younger Committee Member
G
Nasir Gharaibeh

,

Ph.D., P.E., M.ASCE




Member
H
Jhony Habbouche

,

A.M.ASCE




Younger Committee Member

Elie Hajj

,

Ph.D., EI, M.ASCE




Member

Jaime Hernandez

,

Ph.D., A.M.ASCE




Associate Committee Member

R Gary Hicks

,

P.E., F.ASCE




Associate Committee Member

Arash Mohammad Hosseini

,

Ph.D., A.M.ASCE




Associate Committee Member
K
Nima Kargah-Ostadi

,


Member

Lev Khazanovich

,

Ph.D., A.M.ASCE




Associate Committee Member

Tony Khoury

,

A.M.ASCE




Associate Committee Member

Sung-Hee Sonny Kim

,

Ph.D., P.E., F.ASCE




Associate Committee Member

Y Richard Kim

,

Ph.D., P.E., F.ASCE




Member

Muhammed Emin Kutay

,

Ph.D., P.E.




Associate Committee Member
L
Andreas Loizos

,

A.M.ASCE




Associate Committee Member
M
Mehran Mazari

,

Ph.D., A.M.ASCE




Member

Sue McNeil

,

P.E., Dist.M.ASCE




Associate Committee Member

Ali Mokhtari

,

Ph.D.




Associate Committee Member
N
Hadi Nabizadeh

,

Ph.D., A.M.ASCE




Younger Committee Member
P
Athanassios T Papagiannakis

,

P.E., F.ASCE




Member
Q
Issam Qamhia

,

A.M.ASCE




Younger Committee Member
R
Prashant Ram

,


Member

Hadi Rashidi

,

Ph.D., P.E., R.Eng, M.ASCE




Associate Committee Member

Stefan Anton Romanoschi

,

Ph.D., P.E., M.ASCE




Associate Committee Member
S
Shadi-Mohd Saadeh

,

Ph.D., P.E., M.ASCE




Member

Benjamin Schmidt

,

Ph.D., A.M.ASCE




Member

Paul Schmitz

,

A.M.ASCE




Associate Committee Member

Charles Warren Schwartz

,

M.ASCE




Member
T
Prajwol Tamrakar

,

P.E., M.ASCE




Associate Committee Member

Steven Lee Tritsch

,

P.E., M.ASCE




Member

Erol Tutumluer

,

Ph.D., M.ASCE




Member
W
Deborah Walker

,

A.M.ASCE




Associate Committee Member

Leif Wathne

,

P.E., M.ASCE




Member

Shenghua Wu

,


Member
Z
Musharraf M Zaman

,

F.ASCE




Associate Committee Member

Yang Zhang

,

Ph.D., EI




Associate Committee Member