The ASCE-NOAA Leadership Summit on Climate-Ready Infrastructure was held at ASCE Headquarters in Reston, VA from Wednesday, February 1 - Thursday, February 2, 2023, presided by the 2023 ASCE President, Maria Lehman, and NOAA Administrator, Richard Spinrad.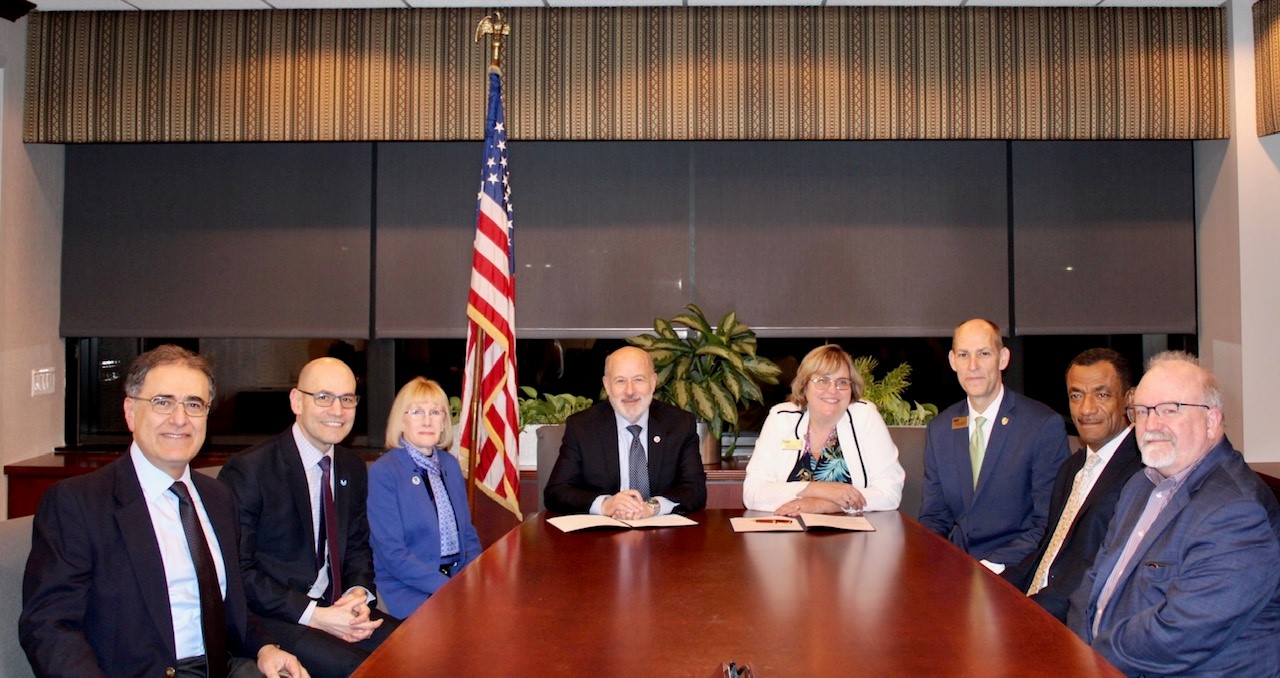 Read the Memorandum of Understanding between ASCE and NOAA.
This Summit marked a major milestone in a working partnership between NOAA and ASCE, and reflects progress toward supporting civil engineers as they move forward with designing climate resilient and sustainable infrastructure based on the NOAA mission, vision, and objectives of providing reliable climate information and services. The Summit Planning Committee and a group of Advisors developed a program based on addressing the urgent needs of assessing impacts of, and adapting to, climate change.
Presiding
Maria Lehman, P.E., ENV SP, F.ASCE, 2023 ASCE President, Director, US Infrastructure at GHD
Richard Spinrad, Ph.D., Under Secretary of Commerce for Oceans and Atmosphere and NOAA Administrator
Summit Chair
Bilal Ayyub, Ph.D., P.E., Dist.M.ASCE, Professor & Director of the Center for Technology and Systems Management, University of Maryland (UMD)
Planning Committee
Erica Dintaman, NOAA, Policy Advisor to the Deputy Under Secretary for Operations
Benjamin DeAngelo, Deputy Director, Climate Program Office, Principal Representative to the U.S. Global Change Research Program, NOAA
Dan Walker, Ph.D., A.M.ASCE, Associate Director for Multidisciplinary Studies, University of Maryland, and EA Engineering, Science, and Technology, Inc. (PBC)
Deborah H. Lee, F.ASCE, 2020 EWRI President, Director, Great Lakes Environmental Research Laboratory, NOAA
Edward P. Clark, Director, National Water Center, Deputy Director, Office of Water Prediction, NOAA
Mark S. Osler, Senior Advisor for Coastal Inundation and Resilience, NOAA
David R. Easterling, Ph.D., NOAA, Director, National Climate Assessment Technical Support Unit, National Centers for Environmental Information
Victoria Moreno, Policy Advisor & Special Assistant to the Assistant Administrator, Oceanic and Atmospheric Research, NOAA
Brian Parsons, ENV SP, Managing Director, EWRI, and Chief Sustainability Officer, ASCE
Erika Haldi, Conference & Member Community Manager, ASCE
Advisors
Gerry Galloway, Dist.M.ASCE, NAE, Glenn L. Martin Institute Professor of Engineering, University of Maryland
Thomas O'Rourke, Dist.M.ASCE, NAE, Thomas R. Briggs Professor in Engineering Emeritus, Cornell University
Paul Boulos, NAE, Chairman & CEO, Aquanuity, Inc.
Ko Barrett, Senior Advisor for Climate, NOAA
Alice Hill, David M. Rubenstein Senior Fellow, Energy and the Environment at the Council on Foreign Relations
Kimberly Jones, Ph.D., Associate Provost for Faculty Affairs, and Professor, Civil & Environmental Engineering, Howard University
Ed Kerns, Ph.D., Chief Data Officer, First Street Foundation
Norma Jean Mattei, Ph.D., P.E., F.SEI, F.ASCE, National Infrastructure Advisory Council, 2017 ASCE President, University of New Orleans