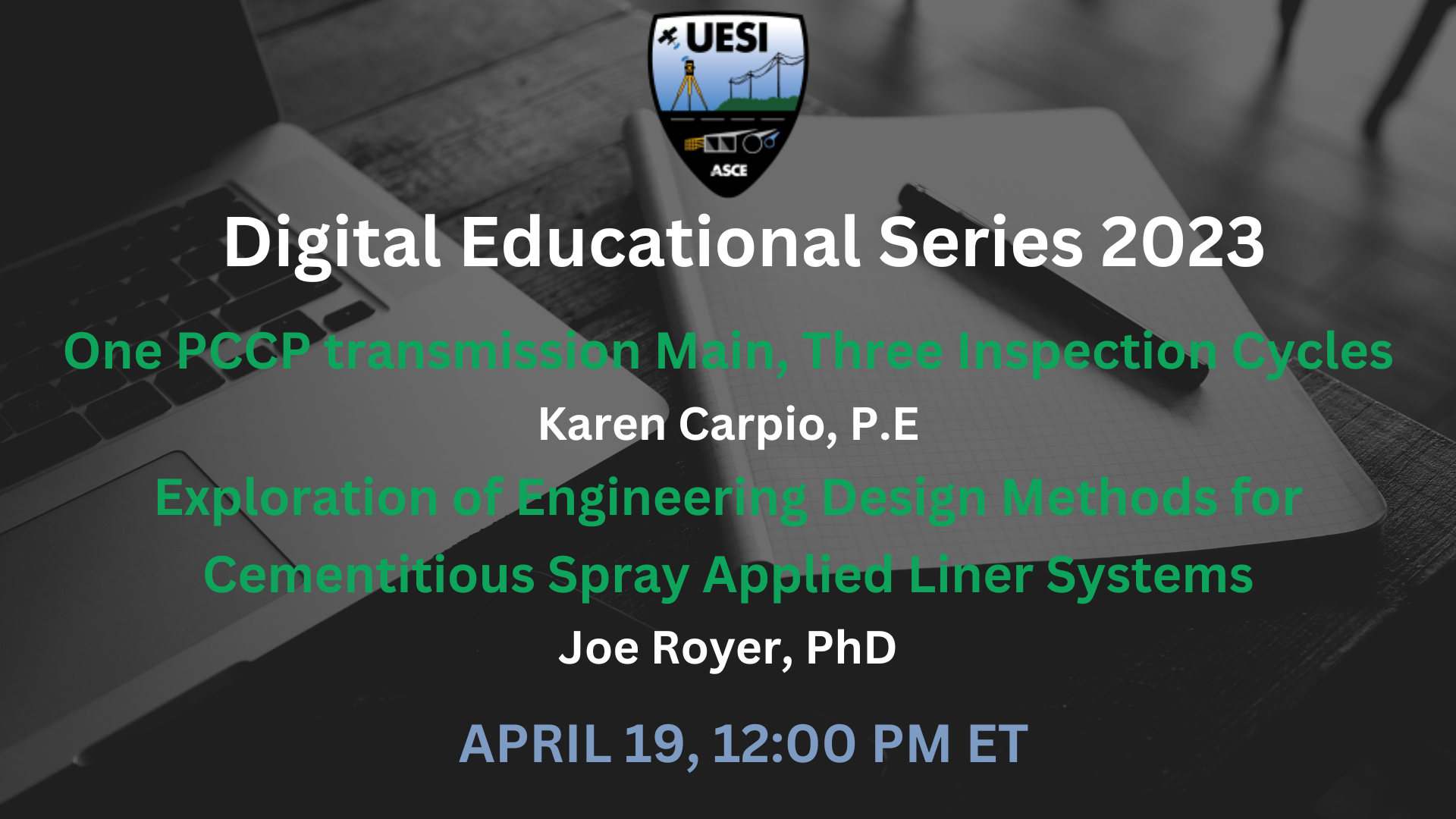 UESI Digital Series Webinar | April 19 @ 12:00 pm ET
Presenters: Karem Carpio and Joe Royer
Moderator: Mark Mihm
"One PCCP Transmission Main, Three Inspection Cycles"
WSSC Water employ a proactive approach to manage the condition of their PCCP transmission mains with a 5 year cycle multi-approach inspection followed by near-real-time pipeline acoustic fiber optic (AFO) monitoring. Inspection data and structural analysis together with AFO provide to WSSC up-to-date condition assessment information of each monitored PCCP to make informed proactive decisions. This presentation will compare and discuss the results of four condition assessments performed in 2008, 2009, 2014, and 2020 on the same 48-inch PCCP Rockville Montgomery County High Zone transmission main. This presentation will also show the progression of deterioration, the frequency of reinspection, how repairs have extended the service life of the 48-inch PCCP transmission main, share the lessons learned by WSSC's engineers executing the condition assessment every 5 years, and what changes are ahead to improve the continuous success of the WSSC's PCCP program.
"Exploration of Engineering Design Methods for Cementitious Spray Applied Liner Systems"
Over the past decade cementitious spray applied mortar linings have gained increasing popularity due to their competitive cost structure for large diameter pipe rehabilitation as well as other installation considerations. However, the engineering community, and especially bodies such as ASCE, ASTM and others, have yet to define a standard design methodology. This paper will review the increasingly large number of scientific studies that have been conducted to reline existing pipe structures and determine a proper design method. The test data from at least three different published engineering studies will be analyzed. The experimental methods of each study will be investigated, and the limitations for each set of data will be noted. The evaluation of lined CMP and RCP pipes will also be presented. A straightforward conservative design methodology will be presented and compared to the failure modes for each pipe type based on the material properties of the sprayed liner system and form a consensus on the design method.
The results will be compared to CANDE models as well as other finite element solutions.