Completion Date
1698-1882

Project Type
Water Transportation

Location
Plymouth, England
50 11 02.0 N, 4 16 05.1 W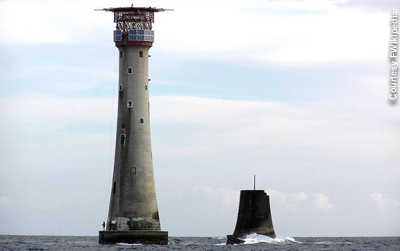 The Eddystone Lighthouse was the first masonry-tower lighthouse to be built at sea, and its form was universally adopted.
An early image of the James Douglass lighthouse, with the stump of the Smeaton-designed building beside it.

Eddystone Lighthouse is located in the English Channel, 14 miles south of Plymouth, England. The reef upon which it stands was the source of many shipwrecks... and many lighthouses, the first of which was built in 1698. The first three lighthouses were wooden, and suffered the fate of sea storms. John Smeaton built the fourth lighthouse in 1759 of Cornish granite.

Using an oak tree as his model of strength and stability, he experimented with many engineering concepts to build the lighthouse - an effort that would later propel him to prominence as England's "Father of Civil Engineering." Of particular significance were the dovetailed joints in stone, using quick-drying cement that could withstand the salty seawater. These interlocking blocks served as the model for Minot's Ledge Lighthouse.

In the 1870s, the foundation eroded beyond repair and the structure became unsafe. The lighthouse that stands today was constructed in 1882 by Sir James Douglass, using the successful concepts of Smeaton's design.


Facts
Henry Winstanley, a London merchant who had personally lost ships to the treacherous reef, built the original structure in 1698. After a year in service, it was clear that the lighthouse was structurally in peril due to the frequent, tempestuous storms. Winstanley significantly modified and strengthened the structure and it became known as the second Eddystone lighthouse. However, in 1703 the region was pounded by one of the most devastating storms in history, which toppled the lighthouse and cost the life of its builder, who was asleep inside.
In 1709, John Rudyerd, a London silk merchant, designed the third lighthouse that survived 47 years, until it burned to the ground. Legend suggests that sparks from a wood stove had ascended the chimney and set fire to the roof.
Smeaton's design included new types of lifting gear and cranes to place multi-ton stones atop each other in an environment of extreme wind and rough seas.