Project Type
Water Supply & Control
Location
Queretaro City, Mexico

20 35 48.0 N 100 22 20.6 W
The Acueducto de Queretaro, one of Mexico's most important monuments, provided a dependable supply of clean water to the city of Queretaro, Mexico. It is still virtually intact.
Queretaro's aqueduct, in Central Mexico, is one of the most eloquent symbols of colonial Mexico. As one of the early major hydraulic engineering projects in North America, it defines the city both nationally and internationally. The aqueduct, designed in 1723 by Juan Antonio de Urrutia y Arana, Marquis of Villa del Villar del Aquila, was inspired by the aqueducts of Segovia, Merida and Tarragona in Spain. It began supplying clean water to the city in this arid region of Mexico on October 17, 1738.
The aqueduct crosses a valley south of Queretaro in order to get the water from the mountain springs to the highest point in the city where it was then distributed in the city fountains. The aqueduct is 1,280 meters long with a maximum height of 23 meters. There are 74 semicircular stone arches on which an open channel conveyed the clean water by gravity to the city.
The civil engineering design, drawing and construction from 1726 to 1738 used elemental tools and techniques such as lead weights and the lever and available surveying equipment. This was a masterful engineering undertaking in the 1700's in Mexico. Although no longer used as an aqueduct, the structure remains in place and is well maintained for traffic, pedestrians, and the thousands of tourists that pass by and under the aqueduct's 74 stone arches.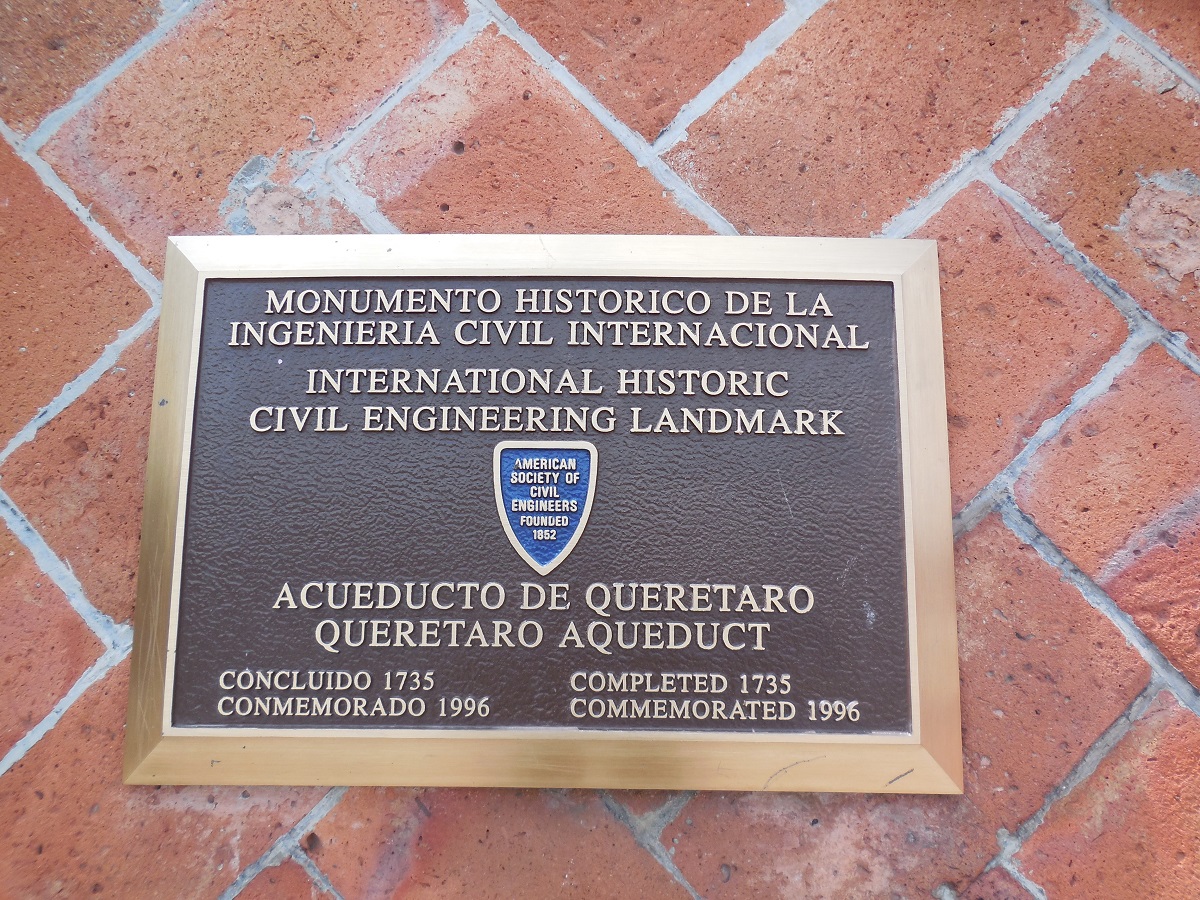 Resources
Septien y Septien, Manuel. Historia de Queretaro. Querétaro: Edicciones [sic] Culturales del Gobierno del Estado, 1966
Septien y Septien, Manuel. Acueducto y fuentes de Querétaro. Querétaro, Qro., México: Dirección de Patrimonio Cultural, Secretaría de Cultura y Bienestar
Social, Gobierno del Estado de Querétaro, 1988