Atlantic City Municipal Convention Hall
Location
Atlantic City, NJ
39 21 18.0 N, 74 26 19.1 W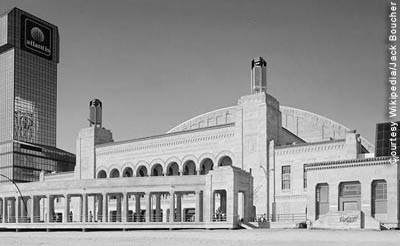 At the time of its construction, Atlantic City Municipal Convention Hall was believed to be the world's largest hall, capable of seating 40,000 people. It continues to serve as a meeting place for shows, pageants, sporting events, and conventions.
The quantities of materials used in the building are staggering: 12,000 tons of structural steel; 42,000 cubic yards of concrete - consisting of 65,000 barrels of cement and 25,000 tons of sand; 360,000 feet of piling; and 10,000,000 bricks.
It is a structure of heroic proportions. The roof of the main hall, which is 488 feet long by 288 feet wide with a ceiling height of 137 feet, is supported by three of the largest three-hinged truss arches ever built in a permanent structure. Although arches were routinely used in the construction of armories, those in the Convention Hall, with a 350-foot clear span, were about 130 feet longer than typically in use at the time.
The original structure has required virtually no modification aside from air conditioning, and remains a vital part of Atlantic City's visitor services.
Facts
The Convention Hall holds 40,000 people and has a 4-acre roof. It wasn't until major advancements in construction materials that larger roof structures could be built. The Houston Astrodome (built in 1965) holds 66,000 people with a 7.5-acre roof; the Superdome in New Orleans (1975) holds 97,300 people with a 9-acre roof; and the Pontiac Silverdome (1975) holds 80,600 people and has a 10-acre roof.
The Convention Hall was built at a cost of $15 million.
The quantities of materials used in the building are staggering: 12,000 tons of structural steel, 42,000 cubic yards of concrete, consisting of 65,000 barrels of cement and 25,000 tons of sand, 360,000 feet of piling, and 10,000,000 bricks.
Over 365,000 cubic yards of sand were excavated for the basement