Augusta Canal and Industrial District
Project Type
Water supply and control; Power generation; Water transportation



Location
Augusta, Georgia, United States

From: 33° 33' 6" N, 82° 2' 20" W
To: 33° 28' 59" N, 81° 58' 58" W


The Augusta Canal initiated a transformation of the economy of the agrarian South by using civil engineering principles to create manufacturing capacity in a previously less developed region. It directly initiated this transformation in Augusta and thus provided a successful example that numerous other Southern cities subsequently followed.
The Augusta Canal was a bold economic development enterprise begun in 1844 that created the first multi-user, multi-purpose, industrial district in the agrarian South. It transformed the City of Augusta, Georgia and ultimately the entire region from a strictly agrarian economy to a more diversified employment base including manufacturing. Numerous civil engineers participated in its design and construction including William Phillips of Augusta and John Edgar Thomson, the latter of whom was later renowned as President of the Pennsylvania Railroad.
Water power – The Augusta Canal promoters sought to establish a new cotton textile manufacturing industry close to the source of raw cotton, based on engineered water power. By the 1880s the Augusta industrial complex was a marvel of engineering industrial success that inspired the development of similar large-scale textile manufacturing based on water power across the southern region of the United States from Virginia to Alabama.
Water supply – To furnish an abundant supply of pure water for the City, the Augusta Canal Water Works was a pioneering work of settling, filter, and clear water basins. A canal water turbine-powered pumping station lifted finished water to a cast iron elevated tank which then supplied sixteen miles of cast iron distribution pipes in the City.
Transportation – Finally, the Augusta Canal was also built to accommodate the trade boats of the upper Savannah River knowns as Petersburg Boats. It allowed these boats to bypass river rapids through a seven-mile canal and terminated at wharfs in the industrial district along a cul-de-sac-like turning basin. The navigation lock included a unique counter-weighted, portcullis-style, guard lock gate on the upstream end that both admitted boats and guarded against the entrance of floods.
It was the first canal in the United States built for these three purposes and the only one that is still operated for all of its original purposes.
Visiting the landmark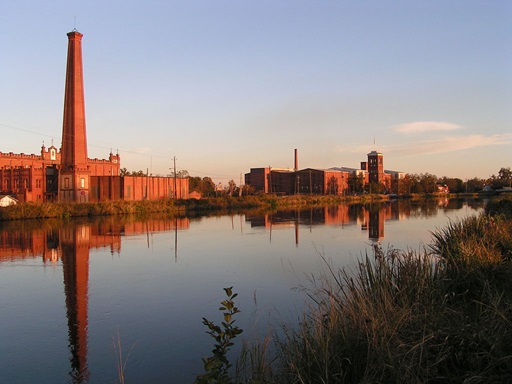 The Augusta Canal National Heritage Area, managed by the National Park Service, provides trails, trailheads, and interpretive information along the seven-mile canal. The Augusta Canal Discovery Center at Enterprise Mill, 1450 Greene Street in Augusta provides interpretive displays about the construction, operation, and significance of the canal for an entry fee. A variety of boat tours are available.