Project Type
Water Supply & Control

Location
Bethlehem, PA
40 37 08.7 N, 75 22 58.2 W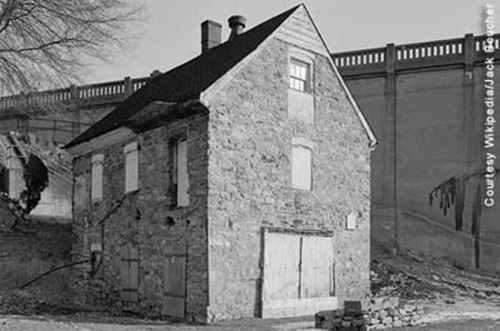 The Bethlehem Waterworks was the first known pumping system providing drinking and wash water in the North American Colonies.

"The [system's trial run] created great gratification in the little community, and the novelty of the enterprise invariably excited the wonder and admiration of visitors."
- Robert Rau Historical Sketch of the Bethlehem Water Works, 1877
Although gravity-fed water systems were common in colonial America, the Bethlehem Waterworks was the first pumping system to provide drinking and washwater in North America. Before the Bethlehem built its system, assigned carriers would daily haul water up the hill from a well near the city gate.
The system was considered state-of-the-art at that time and served as a model for later waterworks projects. George Washington and other early American leaders considered making Bethlehem the nation's capitol, in part because of the technological leadership exhibited by the city's water system.
Architecturally, the waterworks building, which still stands today, is distinctive. It is made of hand-hewn limestone with Moravian brick arched windows.
Facts
The trusses consist of wooden latticework, connected with nuts, bolts, and washers.
The span is constructed mostly of virgin pine with an oak arch.
The ridgepole is 232-feet long and the truss is 228-feet.