Location
Savage, MD
39 08 05.4 N, 76 49 30.3 W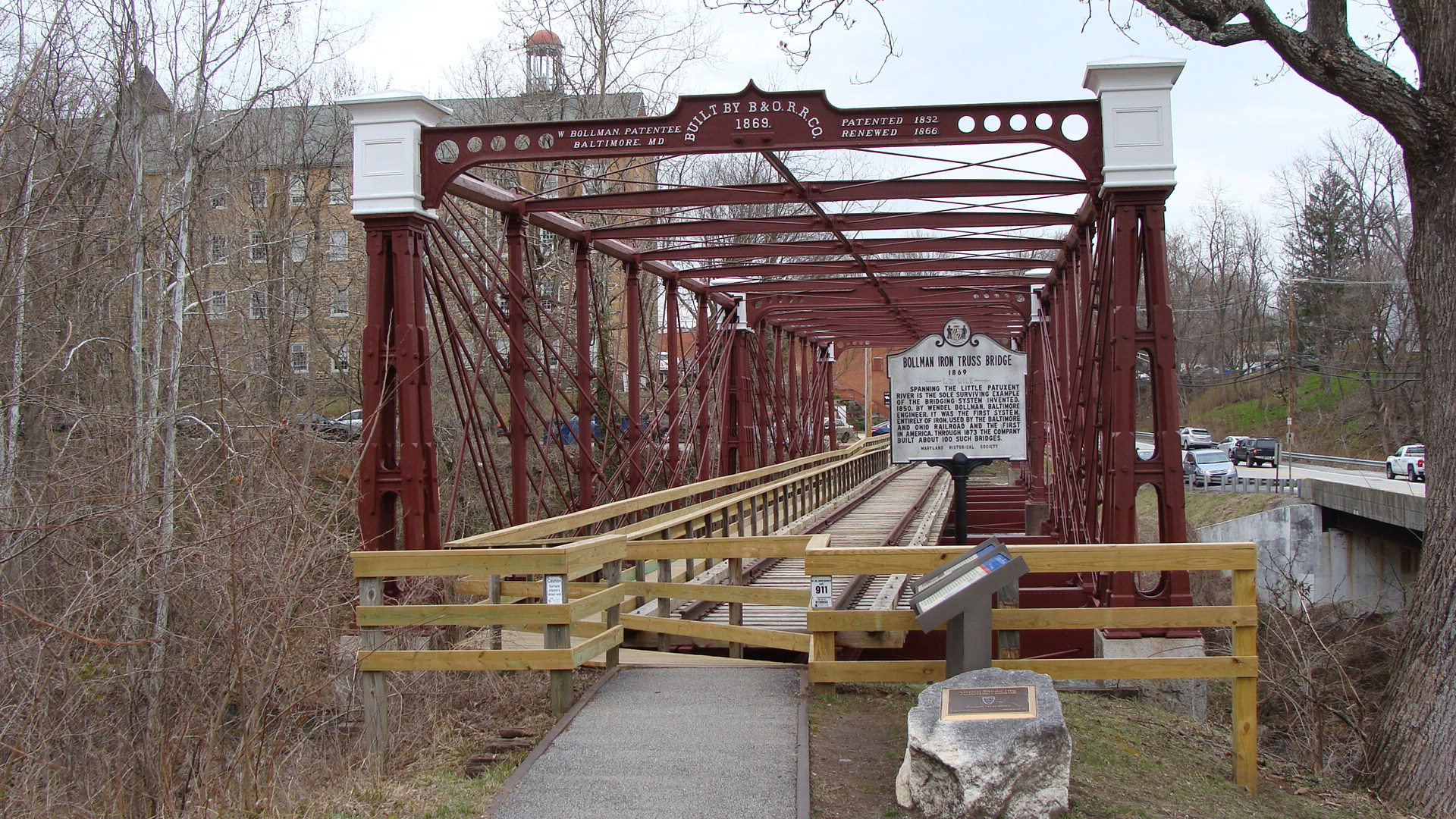 The Bollman Truss Bridge is the only remaining example of a patented design that was used extensively on the Baltimore & Ohio and other railroads.
"In the period when Bollman began designing-about 1840-there were fewer than ten men in the country designing bridges by scientifically correct, analytical methods ... By 1884, the year of Bollman's death, the age of intuitive design had been dead for a decade or longer..."
- Robert Vogel, Curator of Civil Engineering, Smithsonian Institution, 1964
The design of the Bollman Truss Bridge-patented in 1852 and one of the first to use iron exclusively in all essential structural elements-was critical in the rapid expansion of American railroads in the 19th century. Replacing wooden bridges, which were cumbersome to build and vulnerable to decay, the Bollman Truss Bridge could be built relatively quickly and inexpensively, while providing the long-lasting qualities associated with metal. This allowed new rail lines to be built over long distances in a short period of time.
Wendel Bollman, the design's creator, was a self-educated engineer who apprenticed as a carpenter. He adapted the technique of "trussing" from the practice of strengthening wooden beams using tension rods. More than 100 Bollman Truss bridges were built between 1850 and 1875, the majority for the Baltimore & Ohio Railroad. The only example remaining-a double-span through truss extending 160 feet-was used on a spur across the Little Patuxent River at Savage, Maryland. It was restored in 1968 and is now part of the Historic Savage Mill Marketplace.
Facts
The Bollman Truss Bridge at Savage, Maryland, designated in 1966, was the first National Historic Civil Engineering Landmark recognized by the American Society of Civil Engineers. In September 2000, it also was named by the National Park Service as a National Historic Landmark.
The Bollman truss was eventually eclipsed by bridges designed to carry heavier loads. Many survived, however, well into the 20th century
The very first Bollman truss bridge -- 76 feet in length at a cost of $24,000 -- was constructed on the same span across the Little Patuxent River as the bridge that stands there now. The present bridge was built in 1852 and moved in 1882.
Wendel Bollman initially worked as a laborer for the Baltimore & Ohio Railroad in 1829, helping to lay the company's first stretch of track. Later, he became a protege of Chief Engineer Benjamin Henry Latrobe II. In 1848, Bollman was appointed Latrobe's second-in-command.
Bollman left the Baltimore & Ohio in 1858 to start his own business as a very successful builder of bridges and other iron structures.
Resources
Robert M. Vogel, "The Engineering Contributions of Wendel Bollman"; National Museum Bulletin, Smithsonian Institution, 1964