Bonneville Dam, Columbia River Power & Navigation System
Project Type
Power Generation

Location
Bonneville, OR
45 38 39.7 N, 121 56 26.7 W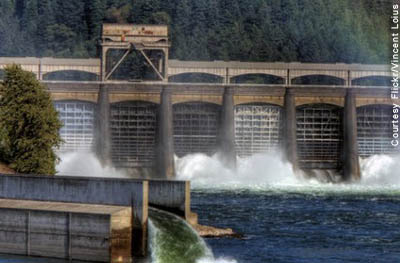 The Bonneville Dam was the first Federal dam of 55 major hydroelectric projects on the Columbia River. The array constitutes one of the largest hydroelectric systems in the world.
"If Bonneville kilowatt hours hum merrily over a network of transmission lines, and homes are lighted and farms are electrified and factory wheels are turned, the government's power program probably will be extended to encompass the country."
- Richard L. Neuberger 1930s Bonneville critic, later an Oregon Senator
The Bonneville Dam, Columbia River Power and Navigation System consists of 55 major projects on Oregon's Columbia River and is said to be the largest hydroelectric system in the world.
The Columbia River forms part of the border between Washington and Oregon and flows inland through the only waterway that crosses the Cascade Mountains. To harness the energy of the ninth longest river in North America, engineers developed unique design and construction approaches to overcome problems caused by depth of water, current velocity, and an irregularly-shaped river bottom.
Among the special techniques was the development of horseshoe-shaped timber cribs used as cofferdams which were fit into the irregular river bottom. This eliminated the costly and time-consuming task of leveling the river bottom. The cribs diverted the river during construction.
Facts
The Bonneville Dam is a gravity-type, concrete spillway dam spanning 1,230 feet across the center channel of the Columbia River. It measures 180 feet wide at its base.
Two 350-ton gantry cranes, operated from a service roadway 99 feet above the water, regulate its 18 movable-crest steel gates.
With reinforced concrete cut-off walls set into the banks of adjoining islands, the dam's overflow is fixed at a crest of 24 feet.
The project required 750,000 cubic yards of concrete.