Project Type
Roads & Rails

Location
Boston, MA
42 21 23.8 N, 71 03 43.6 W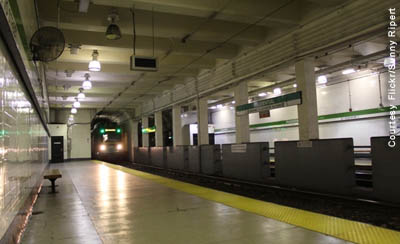 As the first subway in North America and an engineering innovation, the Boston Subway became the prototype for other urban mass transit subway systems in the United States.
"The effect was like when a barrier is removed from the channel of a clogged-up river; the tremendous pressure on the surface thoroughfares was at once relieved and movement became free and accelerated to a degree that has never been witnessed by the present generation."
- Harper's Magazine, 1897
By the 1890s, the transportation infrastructure of downtown Boston - a maze of narrow, winding streets laid out, in some cases, along Colonial cow paths - proved completely inadequate for the needs of a modern, bustling metropolis. Tremont Street, the city's main thoroughfare, was regularly subject to gridlock from a convergence of foot traffic, horse-drawn conveyances, trolley lines, and electric streetcars. To rectify the problem, the Boston Transit Commission, with Howard A. Carson as chief engineer, was created in 1894 to study remedies.
A streetcar subway was selected as the best solution, and construction began in March 1895. The completed project - the fifth in the world, and the first in the United States - carried more than 100,000 riders on its opening day, and more than 50 million passengers in its first year. The Boston Subway infrastructure remains in use today and is a central link in what has become the fourth-largest metropolitan transit system in the U.S., serving 175 towns and cities in eastern and central Massachusetts.
Facts
In all, nearly 100 public hearings were held in conjunction with the project, a half-dozen alternatives considered, and an extensive series of engineering studies conducted, mapping soil quality, subsoil conditions, and other physical characteristics.
Careful consideration also was given to the design of each of the subway's five stations: 23 studies alone were conducted for the Boylston Street Station, and the platform size for each station was determined by counting trolley passengers, up to 3,500 an hour, on the Saturday before Christmas.
The achievement of the Boston Subway project is generally regarded as less technical and more an advancement in establishing a prototype for the study and planning of large-scale transportation projects.
The decision to maintain a shallow tunnel depth through the Boston Subway project resulted in the rejection of arched masonry construction in favor a sturdier system relying on steel columns and beams.
Resources
Charles W. Cheape, Moving the Masses: Urban Public Transit in New York, Boston, and Philadelphia

(Cambridge, MA: Harvard University Press, 1980).