Location
Cody, WY
44 30 05.3 N, 109 10 59.4 W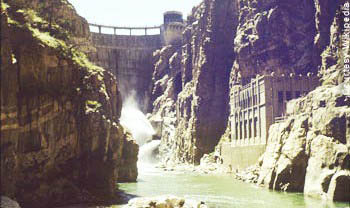 From what was once anthill, buffalo skull, cactus, and sagebrush-dotted flats, irrigation has transformed the project area into a lush, productive landscape."
- Gilbert Stamm, Commissioner of Reclamation, 1973
The Buffalo Bill Dam, known as the Shoshone Dam until 1946, was the first mass concrete dam in America. At nearly 325 feet high, it was also the tallest dam in the world at the time of completion.
This was one of the first arch dams in the U.S. to be designed using a mathematical method of analysis. For the Buffalo Bill Dam, consulting engineer Edgar Wheeler considered changing water surface elevations, variation in temperature and deflection issues. This allowed him to determine the distribution of loads both horizontally and vertically. This was the forerunner of the Trial-Load Method of arch dam stress analysis which is the predecessor of today's computerized systems.
The dam is a constant-radius arch concrete structure with a radius of 150 feet and a crest length of 200 feet. Twenty-five percent of the dam is composed of hand-placed rocks, called plum stones, weighing 25 to 200 pounds each.
Facts
Concrete was placed and cured despite below-zero temperatures, requiring steam fittings to carry heat to the construction site.
To excavate the dam abutments on the sheer walls of the canyon, workmen risked their lives, hanging from spider lines connected to cableway towers.
Manpower was limited on the sparsely populated frontier. Contractors and laborers had to be imported and trained.
Thousands of tons of materials had to be delivered to the site over the precipitous canyon road.
In, 1988-1993, the height of the dam was raised by 25 feet to a total height of 350 feet.