Project Type
Water Transportation

Location
Barnstable, MA
41 45 51.1 N, 70 34 06.3 W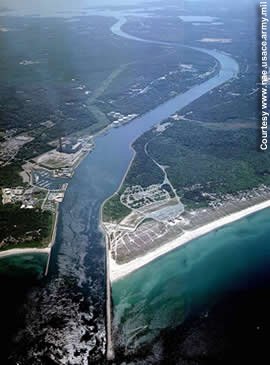 Soon dredges will be put to the task of commencing a canal from Cape Cod Bay to Buzzard's Bay, making Cape Cod an island and converting Nantucket Sound, 'the sailors' graveyard,' to a memory..."
- Fergus Crane, The Eclectic Magazine, April 1906

The idea of a canal eliminating the costly and dangerous sea trip around the Massachusetts peninsula of Cape Cod was envisioned as early as 1623 by Pilgrim leader Miles Standish. It was not until financier August Belmont became involved in 1906, however, that sufficient funds for the project could be raised. Belmont had been the primary backer of New York City's first subway, and chose the subway's chief engineer, William Barclay Parsons, as the canal's project director.

In 1905, Parsons had sided with the majority of the Panama Canal commission in recommending that "The Big Ditch" be built as a sea-level canal without locks. He and the other commissioners eventually were overruled. With the Cape Cod Canal, however, Parsons proved that a 17.5-mile, sea-level canal without locks could accommodate a difference in tides at each end of almost three hours and nearly five feet. Originally 480 feet wide and 34 feet deep, the canal was enlarged in 1940, making it the widest canal in the world.


Facts
Parsons also showed that the current created by the varying tides at either end of the Cape Cod Canal would prevent ice from forming and eliminate the need for maintenance dredging. Three years after the Canal opened, he published a landmark paper on tidal-canal hydraulics.
In the two decades prior to 1915, more than 135 ships were wrecked, 63 lives were lost and $1.6 million in cargo destroyed attempting to travel around Cape Cod.
Originally financed as a toll passageway for $16 million, the canal was purchased in 1928 for $11.4 million by the U.S. Army Corps of Engineers, which has operated it toll-free ever since and maintains the surrounding area for recreational use.
The three bridges spanning the canal (two for roads and one for rails) were built during the Great Depression, using $4.6 million in federal funds and providing more than two years of employment for as many as 700 workers.
Average high-tide waters move through the canal at four-to-five miles per hour; tides accentuated by a full moon or other conditions, however, can increase the current to seven miles per hour or more.
Resources
The Cape Cod Canal, Robert H. Farson, Cape Cod Historical Publications, 1987; ISBN 0961674008
The Cape Cod Canal, Sagamore Films, May 1998, ISBN 0966638409