Charles River Basin Project
Project Type
Water Supply & Control

Boston, MA
42 22 03.8 N, 71 04 12.8 W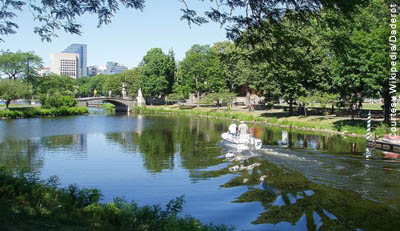 A pioneering environmental engineering project, the Charles River Basin Project converted 675 acres of estuarial muck into a freshwater basin of beauty and recreational value and has served as an international model in environmental engineering, landscape architecture, and urban planning.
The Charles River Basin was one of the pioneering environmental engineering projects in America. The project transformed 675 acres of unhealthy and unsightly salt marshes and tidal flats were into an environmental centerpiece for the Boston area by 1910. This was one of the first public projects to radically improve the environment and has served as a model for similar projects around the nation.
A groundbreaking seven-year study was begun in 1903 and prepared by John R. Freeman, head of the Charles River Basin Study Committee. His 600-page report set a new standard in its thorough detail and anticipation of the impact of various proposed solutions. The report concluded that the most effective solution was construction of a dam across the estuary to separate it from the effect of ocean tides. This created a basin, which was filled with the fresh water of the Charles River. The project included locks, tidegates, sluices, a roadway, and a drawbridge.