Completion Date
1933 - 1941

Project Type
Water Supply & Control

Location
Gene Camp, CA
34 17 23.6 N, 114 10 19.5 W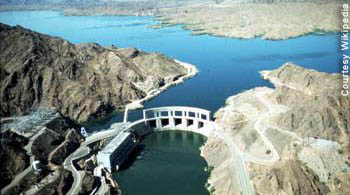 The 242-mile Colorado River aqueduct provided the water that made the large scale population and economic growth of Southern California possible.
Stretching 242 miles from the Colorado River on the California-Arizona border to its final holding reservoir near Riverside, California, the Colorado River Aqueduct consists of more than 90 miles of tunnels, nearly 55 miles of cut-and-cover conduit, almost 30 miles of siphons, and five pumping stations. Supplying approximately 1.2 million acre-feet of water a year - more than a billion gallons a day - it helped make possible the phenomenal growth of Los Angeles, San Diego, and surrounding Southern California areas in the second half of the 20th century.
Funded by a bond issue of $220 million approved by voters in 1931, the Colorado River Aqueduct is capable of lifting more than 1,600 cubic feet of water per second to a static height of 1,600 feet as it travels over several desert mountain ranges. Recognizing the project's unprecedented length, cost, pumping rate, lift, and severe climate and terrain, the American Society of Civil Engineers in 1955 selected it as one of Seven Modern Civil Engineering Wonders.
Facts
Following the First Owens River-Los Angeles Aqueduct, the Colorado River Aqueduct was the second major water-supply project in the 20th century that contributed to the subsequent growth of metropolitan Los Angeles and surrounding communities.
The Colorado River Aqueduct was built and is maintained by the Metropolitan Water District of Southern California, a body formed by legislation in 1928. In the six counties served by the Metropolitan Water District, population grew approximately 500 percent in slightly more than 50 years, from 3.5 million in 1939 to 17.5 million in 1993.
Lake Havasu, the main holding reservoir for the Colorado River Aqueduct, was created on the Colorado River by the construction of Parker Dam between 1934 and 1938 by the United States Bureau of Reclamation.
During the Great Depression, the Colorado River Aqueduct provided jobs for more than 30,000 workers, employing as many as 10,000 at one time. Also, by supporting growth in that part of the country, the Colorado River Aqueduct played an important role in Southern California's contributions to World War II efforts.