Location
Crigellachie, Scotland, United Kingdom
57 29 28.8 N
3 11 38.0 W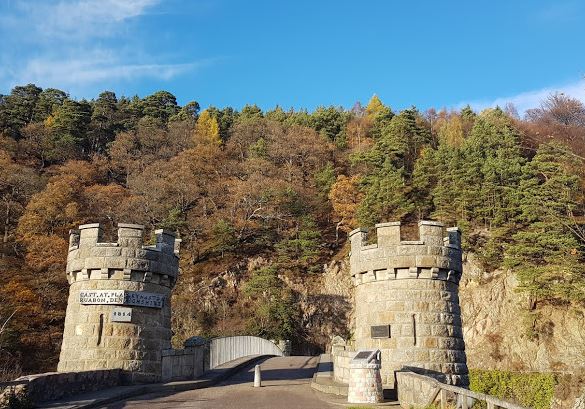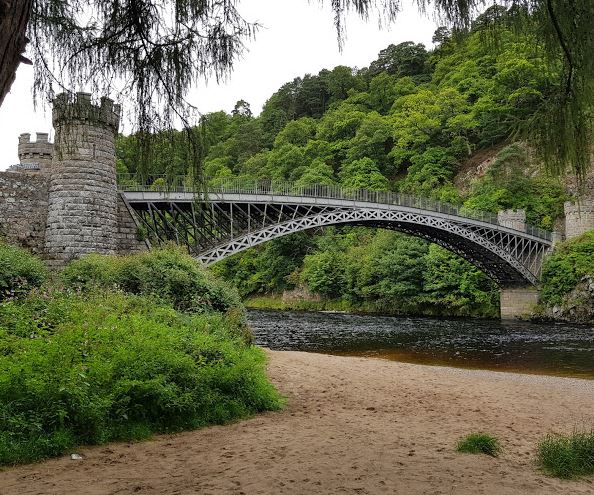 The elegant 150-foot-span cast iron arch of the Craigellachie Bridge is the earliest surviving example of a new portable lattice-braced standard type developed for use at wide sites unsuitable for masonry spans.
"Telford's most beautiful iron bridge was built at Craigellachie in Scotland over the Spey, a turbulent mountain stream that furnished a magnificent setting."
- David B. Steinman and Ruth Watson, Bridges and Their Builders.
This elegant cast iron arch bridge designed by Scotland's famous Thomas Telford was built from 1812 to 1814. It is the earliest surviving example of a portable lattice-braced standard type that Telford developed for use at wide and deep water crossing sites unsuitable for masonry spans. At least 10 of these bridge types were erected throughout Britain between 1814 and 1829.
Craigellachie Bridge demonstrates Telford's mastery of the use of iron for long span bridges. The light weight components were cast by ironfounder William Hazledine at his Plas Kynaston, Ruabon, Denbigshire foundry, transported by canal and sea to Speymouth thence by wagon to the site. The bridge consists of four spans three of which on the south-east approach are stone arches of 15 feet span each. The main 150 feet span is a lozenge lattice spandrel cast iron arch with a rise of 20 feet. The four lattice arch ribs are 2-1/2 inches thick and 3 feet deep each cast in seven pieces. The deck is of iron plate and 13-1/2 feet wide. Erection of the ironwork took place during the short period of August and September of 1814 under the supervision of Hazeldine's foreman William Stuttle. The general contractors for the project were John Simpson and John Cargill.
Craigellachie Bridge was in general use until 1964 when it was reconstructed above the arch ribs by W.W Lowson a partner of W.A. Fairhurst and Partners, Aberdeen. The bridge continued to be used by vehicles until 1972 when it was bypassed by a modern bridge downstream. It is now dedicated to pedestrian and cyclist traffic and maintained by the Moray Council as a significant historical site and tourist attraction.
Craigellachie Bridge stands today as testimony to the team of Telford, Hazledine, Simpson and Stuttle who with their diverse skills on many projects together significantly advanced the craft and science of bridge building in Britain.
Resources
Institution of Civil Engineers, International Historic Civil Engineering Landmark Nomination, Craigellachie Bridge, London 2006
Roland Paxton and Jim Shipway, Civil Engineering Heritage, Scotland Highlands and Islands, Thomas Telford 2007, ISBN 978-0-7277-3488-4
L.T.C. Rolt, Thomas Telford, Scientific Book Club 1958
David B. Steinman and Ruth Watson, Bridges and Their Builders, Dover 1941, LCCCN 57-13151