Crozet's Blue Ridge Tunnel
Location
Waynesboro, VA
38 02 03.1 N, 78 51 28.4 W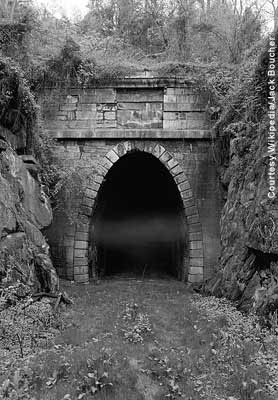 The 4,270-foot Crozet's Blue Ridge Tunnel was the longest railroad tunnel in the United States of its time and represents the culmination of civil engineering technology based on manual drilling methods.
"The railroad system is the triumph of the age. The ultimate effects of its introduction are incalculable ...."
- Claudius Crozet, in an address to Virginia legislators, late 1820s
One of four single-track tunnels built by the Blue Ridge Railroad, the 4,273-foot Crozet Tunnel was constructed at a time when hand drills, pickaxes, and black powder amounted to state-of-the-art tunneling technology. At the time of its completion, it was the longest railroad tunnel in the world. Envisioned and built by Claudius Crozet, a French-born educator and civil engineer, the tunnel remains a testament to his belief in advancing rail transportation even when faced with numerous difficulties.
In the nearly 10 years required to build the tunnel, Crozet was forced to deal with fighting between laborers, a cholera outbreak, a national financial crisis, and persistent personal criticism. Overseeing work crews boring from each end, Crozet encountered hard rock, frequent rock slides, unusually heavy winter snows, and problems with ventilation and drainage that adversely affected working conditions. To honor Crozet's accomplishment, a nearby town was named after him.
Facts
Located at the junction of I-64, U.S. 250 and the Blue Ridge Parkway, in an area known locally as Rockfish Gap, the Crozet Tunnel was replaced by a new railroad tunnel with a larger bore in 1944 and is no longer in use.
The 17-mile Blue Ridge Railroad -- purchased by the Chesapeake and Ohio Railroad in 1869 -- was created by the state of Virginia to provide a rail link across the Appalachian mountains and help establish the first rail connection between Virginia seaports and the Ohio Valley.
Having determined that intermediate, vertical shafts would not be practical, Crozet faced the problem of ventilating noxious black-powder fumes during construction, at least until the tunnel borings met. He devised an exhaust system in which inverted tubs trapped the fumes and, after being submersed in water, expelled them into a network of pipes and valves.
To deal with drainage, he connected hand- and horse-powered pumps to a 2,000-foot length of three-inch cast iron pipe which discharged 60 gallons a minute and is believed to be the longest siphon on record.
During construction, Crozet faced continued professional and personal criticism. As digging progressed, for example, bets were placed on whether or not the tunnels bored by each of his crews along a curved path would actually meet. When the crews finally "holed through" on Christmas Day, 1856, not only did the tunnels meet exactly, but Crozet's calculations were found to be so precise that only one-half-inch separated their alignment.
Resources
Henry S. Drinker, Tunneling

; John Wiley & Son, 1978

The Claudius Crozet Story (90-minute video), Morning Sun Productions, P.O. Box 184, Crozet, VA 22932, 1-800-823-4827