Location
Detroit, MI
42 19 28.0 N, 83 02 25.4 W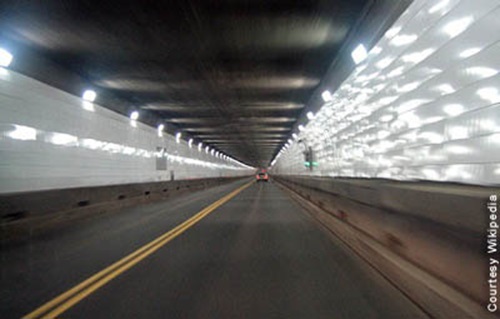 When constructed, the Detroit-Windsor Tunnel, a subaqueous single tube highway tunnel, was an exceptional engineering achievement using three distinct tunneling techniques. It was also the first use of arc welding in tunneling history.
"[It is] almost incredible that we will be able to pass from the one great country to the other in the short space of three minutes."
- Frank Murphy Mayor of Detroit, 1930
The Detroit-Windsor Tunnel is a 5,160-foot structure that carries traffic under the Detroit River between Detroit, Michigan and Ontario, Canada. Privately financed, built, and owned, it was completed in 26 months, 10 months ahead of schedule.
The project's engineer, the firm of Parsons, Klapp, Brinckerhoff and Douglass, used three tunneling methods to construct the structure: cut and cover for the land sections; compressed air shield for the channel approaches and trench; and immersed tube for the river sections. This combination of techniques permitted a shallow tunnel profile which, together with a spiral approach ramp, allowed the connection to Detroit's street system to be located just two blocks from the river.
Ventilation towers rise about 100 feet at each end of the tunnel, on 50-by-90-foot sites. Each tower holds six fresh air fans and six exhaust fans, capable of cycling in a complete change of air every 90 seconds.
Facts
Prefabrication of the nine tube comprising the 32-foot diameter main channel section involved 65 miles of arc welding !V the first major use of arc welding in tunneling history.
The immersed sections involved sinking nine steel tubes, 35-feet in diameter, into a trench dug across the river bottom.
The project pioneered the construction of screeded bed foundation (a technique to ensure proper leveling of poured concrete) for the immersed tube sections.
The maximum depth of the tunnel is 75 feet below the Detroit River.
Two million granite blocks were used to pave the original roadway through the tunnel. These were removed when the roadway was paved with asphalt in 1977.