Location
Truth or Consequences, NM
33 09 14.9 N, 107 11 31.3 W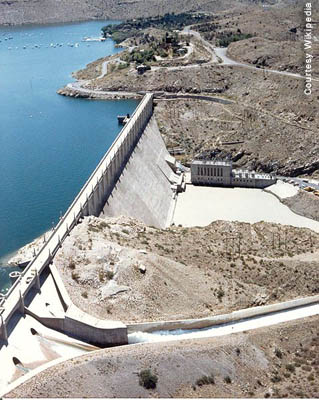 The Elephant Butte Dam created the largest reservoir in the world at that time and was the first civil engineering water project associated with the international allocation of water.
"Water from the Rio Grande Project, coupled with improved farming methods, has transformed a formerly desert-like region into a lush, productive landscape. Astronaut John Glenn - as the Mercury capsule Friendship 7 reentered the earth's atmosphere in 1962 and passed over New Mexico - described the project area as a ribbon of green extending straight north from the Mexico border."
- Bureau of Reclamation brochure, 1982
One of the first major efforts to increase farming and encourage habitation in the arid regions of the western United States, the Rio Grande Project was designed to provide reliable irrigation as well as resolve a dispute over water supply with the Republic of Mexico. The project's centerpiece is Elephant Butte Dam, a concrete gravity structure 301 feet high and 1,674 feet wide. Elephant Butte Reservoir - with a surface area of 36,600 acres and a capacity of more than 2.2 million acre-feet - was the largest reservoir in the world at the time of its completion.
Today, the Rio Grande Project provides irrigation for almost 200,000 acres in New Mexico and west Texas along with 25,000 acres in Mexico. A pioneering accomplishment, the Rio Grande Project provided significant experience for many of its engineers, two of whom - Arthur P. Davis and Louis C. Hill-later served as president of the American Society of Civil Engineers.
Facts
Initiated by the U.S. Bureau of Reclamation soon after its formation in 1902, the Rio Grande Project was the first in the world to distribute water across international boundaries. Under the terms of a 1906 treaty, the project provides water to the Juarez Valley of Mexico by means of the American Diversion Dam and Canal system, located 2 miles northwest of El Paso, Texas.
In 1938, the Reclamation Bureau constructed a hydroelectric plant at Elephant Butte Dam and -- 25 miles downstream -- the project's second major storage facility, Caballo Dam and Reservoir. Today, water held at the Elephant Butte reservoir is used for winter power generation, then held at the Caballo reservoir for summer irrigation.
The Rio Grande Project currently extends 100 miles north of El Paso and 40 miles to the city's southeast, comprising a total of two major dams, six diversion dams, 140 miles of canals, 460 miles of laterals, 465 miles of drains, a hydroelectric plant, 500 miles of transmission lines, and 11 substations.
Among the crops grown in the Rio Grande Project area, "King Cotton" remains one of the most prominent, along with peppers, onions, and lettuce. Other crops include barley, alfalfa, and pecans.