Firth of Forth Railway Bridge
Location
Queensferry, Scotland, United Kingdom
56 00 01.5 N, 3 23 19.4 W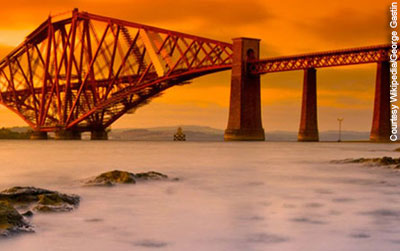 For 27 years the Firth of Forth Railway Bridge held the world's record for span (521 meters). The overall length of the bridge is 2,529 meters.
"The majestic Forth Bridge ... symbolises the tremendous achievements of Victorian engineers and the immense strides made in the technique of bridge design and construction since the dawn of the Railway Age..."
- Derrick Bennett, Bridges: Great Buildings of the World
Throughout the 19th century, several proposals were made to reduce travel time from Edinburgh and southeastern England to the northern cities of Scotland by building a railroad bridge across the expansive mouth of the Forth River. The first attempt, by Thomas Bouch, was abandoned when his previous project, the Tay Bridge, collapsed in 1879. The unique double-cantilever design eventually used was proposed by Benjamin Baker, who had designed the first underground railways in England and later would become the youngest president in history of the Institute of Civil Engineers, the British counterpart to the American Society of Civil Engineers.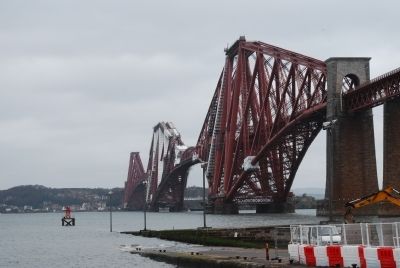 More than a mile-and-a-half long, the Forth Bridge was the longest bridge in the world when it was built, easily surpassing the Brooklyn Bridge. The Prince of Wales, later to become King Edward VII, presided at the bridge's opening ceremony, driving home the last of eight million rivets, specially cast in gold and inscribed to record the event.
Facts
Construction on the Forth Bridge, which began in 1883, required the labor of 5,000 men working day and night, consumed more than 50,000 tons of steel, and cost more than #3 million, or $15 million.
The total length of the bridge exceeds 1 1/2 miles, with each of the two main spans measuring 1,700 feet. The bridge's columns rise 330 feet and allow a shipping clearance of 150 feet.
Painting the bridge's 45 acres of steel surfaces began immediately after it was erected and has continued in an uninterrupted cycle to the present day, using paint produced by a single manufacturer.
The Forth Railway Bridge remains in regular use today, carrying two tracks of the North British Railway between South Queensferry and North Queensferry. It has been joined by the Forth Road Bridge, opened in 1964, which carries automobile traffic.
Resources
Arnold Koerte, Firth of Forth and Firth of Tay: Two Railway Bridges of an Era; Germany: Birkhauser Verlag, 1996, ISBN 376432444
Derrick Beckett, Bridges: Great Buildings of the World; London: Paul Hamlyn, 1969
Institution of Civil Engineers, Historical Engineers and Engineering
Roland Paxton, John Kerr, Douglas McBeth, Our Engineering Heritage: Three Notable Examples in the Edinburgh Area; Edinburgh: Institution of Civil Engineers, Edinburgh and east Scotland Assocoation
Roland Paxton, One Hundred Years of the Forth Bridge; American Society of Civil Engineers, 1990, ISBN 072771600X