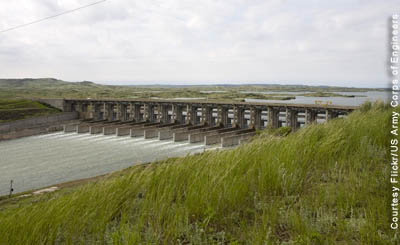 The Fort Peck Dam was more than five times larger than the largest dam in the world at the time, with its crest extending four miles.
The Fort Peck Dam was a cornerstone project of the Works Progress Administration of Franklin D. Roosevelt's New Deal. It required the largest construction plant and workforce since the construction of the Panama Canal and peaked at 11,000 workers. It was the largest dam of any type in the world for over 30 years.
The record-setting, hydraulic-fill structure required the excavation of over 126 million cubic yards of earthfill, mixing the excavated soil with water and transporting the fluidized material to the dam site. Its steel sheetpile foundations, installed to control water seeping through the earth under the dam, extended to a record depth of 163 feet.