Location
Sydney, Australia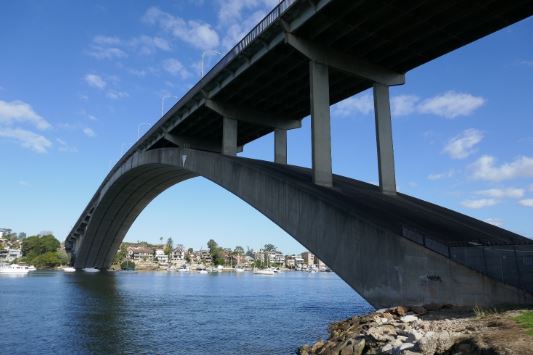 Opened on October 2, 1964 the 305m (1000ft) span Gladesville Bridge was the longest span concrete bridge in the world. It was designed by Tony Gee of G. Maunsell & Partners and constructed for the Department of Main Roads NSW by Reed & Mallik in association with Stuart Bros. The arch comprises four concrete ribs constructed from hollow precast concrete units stressed together. It is believed to be one of the first major bridges designed with the aid of a computer. Through many innovations, the bridge contributed to new standards of bridge design and construction.
The Gladesville Bridge claims many firsts in the design of long-span concrete bridges, among them being the longest span in the world—at 1,000 feet—from 1964 through 1980, the first major concrete arch bridge built using precast segments, and one of the first to use a suite of computer programs for analysis and detailed design.
The concrete arch design was an alternative to a proposed steel balanced cantilever by G. Maunsell & Partners, a major British civil engineering consultancy. Maunsell assigned the design task to Anthony (Tony) Gee, a 22-year old recent graduate of Cambridge University, who wrote the computer programs for the analysis and design. The alternative design was accepted on the condition that it be checked by a third party. This was completed by Professor Roderick of the University of Sydney and the eminent bridge engineer, Eugène Freyssinet, a pioneer in prestressed concrete design.
The alternative was successful and more economical than the initial steel cantilever design prepared by New South Wales' Department of Main Roads. Unfortunately, Guy Maunsell, the principal of Maunsell & Partners, died in 1961 and never saw the completed project. Tony Gee later emigrated to the United States and founded Tony Gee and Partners, Tony Gee + Quandel, and lastly Tony Gee International as sole proprietor. He died in 2020.