Location
Montrose, CO
38 31 26.6 N
107 38 59.9 W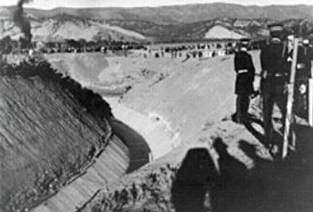 The Gunnison Tunnel was the longest irrigation tunnel in America and was the key to the first major trans-mountain irrigation system in the United States.
"From the day when the first hazardous surveys were made; until the completion of the tunnel, the execution of the project has demanded physical courage; as well as high technical ability."
- Engineering Record magazine, 1909
At its completion, the 5.8-mile Gunnison Tunnel under western Colorado's Vernal Mesa was the longest irrigation tunnel in America. It carried water from the Gunnison River to the Uncompahgre Valley to irrigate 146,000 acres of cropland.
Work on the 30,582-foot tunnel was first performed manually. Adverse geological conditions provided great challenge for this pioneering project. The drilling crews had to deal with clay, sand, shale, and a badly fractured fault zone.
Concentrations of combustible or poisonous gases, large water inflows, and cave-ins all added to the difficult conditions. Despite efforts to ensure worker safety and provide good pay and benefits, miners quickly became discouraged, staying on the job an average of only two weeks.
Perseverance paid off, however, and the Gunnison Tunnel became the key structure in America's first major trans-mountain irrigation system.
Facts
The project required construction of one of the steepest wagon roads imaginable to reach the work area. In some places, the grade was nearly 30 percent. Even with the road, heavy machinery had to be eased down to the construction site on skids and held back with block and tackle.
Seeping water was common, but in December, 1906, tunnelers hit such a huge underground stream that jets shot 40 feet into the tunnel, knocking the drillers from their machines and halting work on the heading for six months.
Hot-water seams and seepage heated the working area to the point where physical conditions were almost unbearable. A 400-foot ventilating shaft had to be constructed to keep workers alive.