Location
Suwon Kyeonggi-do, South Korea
37 17 00.0 N
127 00 57.6 E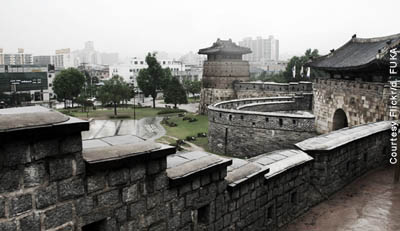 The rapid construction of the Hwaseong Fortress, using paid labor, symbolizes the cultural and technological renaissance under King Jeongjo.
"The fortress is the shining accomplishment of a sagacious king who led a political and cultural renaissance with the counsel of young scholars seeking institutional reforms and practical application of academic theories."
From "National Heritage" by Cultural Properties Administration, The Government of Republic of Korea
Built between 1794 and 1796 by the 22nd King of the Joseon Dynasty, Jeongio, this fortress is an outstanding example of early modern defensive works. Principally designed by Jeong Yak-Yong, it incorporated the most highly developed features of science and engineering from both the east and west.
Based on the advances in western technology, Jeong devised construction equipment new to Korea such as cranes and pulleys to move heavy building materials. The construction management techniques used was another unique aspect of this project. A well organized and detailed construction plan enabled the construction of 48 separate facilities to be completed in only two and a half years. In addition to detailed plans, the construction designers and supervisors who participated in the project were inscribed on a plate at the main gate in order prevent faulty construction and to clarify their responsibilities. Another aspect of improved construction management was the decision to pay the workers, who were mobilized from across the country, out of the national treasury. In the past, projects were undertaken with compulsory labor.
Finally, a ten-volume work, Hwaeseong Seongyeok Uigwe (Archives of the Construction of Hwaseong Fortress) that documented every detail of the project from blueprints to engineering methods, required materials, workforce, budget, timetable, etc. was printed in metal type and published in 1801. This careful documentation has enabled several restorations of the fortress since the 1960s possible.