Location
Cincinnati, OH
39 06 01.0 N
84 30 45.1 W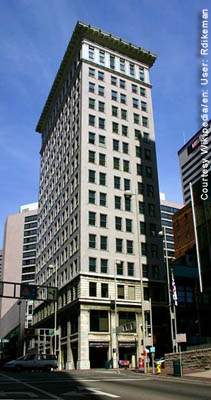 The Ingalls Building was the first reinforced concrete skyscraper in the world.
The 16-story Ingalls Building, still in use today, was the world's first reinforced concrete skyscraper. Its success led to the acceptance of high-rise concrete construction in the United States.
Melville E. Ingalls, for whom the building is named, spent two years convincing city officials to issue a building permit. Skepticism was high, because the existing height record for a concrete building was only six stories.
Ingalls knew that Ernest L. Ransome had been using reinforced concrete since the mid-1800s, analyzing ways to increase its strength. In 1884, Ransome patented the use of twisted steel bars for the reinforcing of concrete. His pioneering efforts helped establish the viability of concrete for large, multi-level buildings.
The 210-foot-high building was designed to act as a monolithic unit, with each floor slab providing a rigid diaphragm to steady the building from wind loads.