Lacey V. Murrow Bridge & Mount Baker Ridge Tunnels
Location
King County, WA
47 35 23.2 N
122 16 44.3 W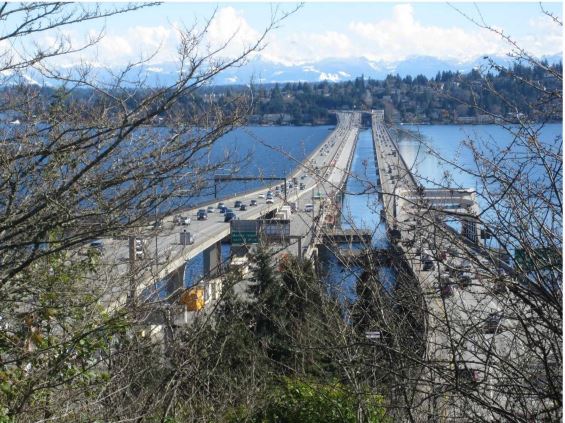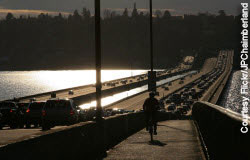 When completed in 1940, the Lacey V Murrow Bridge & Mt Baker Ridge Tunnels constituted the world's first reinforced concrete floating bridge - the largest floating structure ever built - and the largest diameter soft-earth tunnels.
The 1.5 mile Lacey V. Murrow Bridge was the largest floating structure in the world and the first to be built of reinforced concrete when completed in 1940. The bridge consisted of typically 300-foot long pontoons floated to site and rigidly connected to form a continuous structure and incorporated a unique floating concrete draw-span to allow for passage of marine traffic. The original floating structure, constructed by Pontoon Bridge Builders, was accidentally sunk in 1990 during a major renovation effort and was replaced by 1993.
The twin 1466-foot long 29-foot wide Mount Baker Ridge Tunnels were the largest diameter soft-earth bores at the time. Bates and Rogers Construction Company was the contractor. The excavation methods developed led to the construction 49 years later of the adjacent 63-foot diameter soft-earth tunnel serving westbound I-90 traffic.
The original concrete floating bridge concept was developed by civil engineer Homer Hadley who spent more than ten years promoting the idea. Lacey V. Murrow, Chief Engineer of the Washington Toll Bridge Authority, studied and accepted Hadley's scheme and led the detailed design and construction of the project. Hadley was required to withdraw from further involvement because his close ties to the Portland Cement Association were thought to be a conflict of interest. Hadley would not receive credit for this innovative use of concrete until the parallel floating span was completed in 1989 and named in his honor in 1993, 26 years following his death.
Hadley and Murrow's floating bridge led to the construction of three similar bridges in the United States, two in Norway, one in Japan and one in Canada. The bridge and tunnel project were key in improving eastern access to Seattle, a major commercial port on the eastern rim of the Pacific Ocean.