Louisville & Portland Canal Locks and Dam
Project Type
Water Transportation

Location
Louisville, KY
38 16 18.5 N
85 46 45.6 W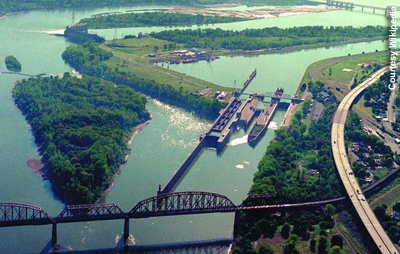 The original Louisville & Portland Canal and Locks constructed at this site were responsible for permanently changing navigation on the Ohio River. These projects improved the transportation of people and goods towards St. Louis, New Orleans and points west and played an important role in the settlement and growth of the nation.
Chartered in 1825, the Louisville and Portland Canal Company was authorized to construct a canal around the rapids called the "Falls of the Ohio." Construction started on March 1, 1826. The canal and first generation of locks were completed in 1830. As originally constructed, the canal was 1.9 miles long, 64 feet wide, and terminated at its lower end with a three-flight lock system with a total lift of 26 feet. Each lock chamber was 198 feet long between miter posts, with available length for vessels of 183 feet, width of 52 feet, and a lift at low stages of 8.5 feet. Since the 1860s, the locks have been reconstructed several times to maintain the usefulness of the canal and lock system.

The construction of the original canal and three-flight locks permanently changed commercial navigation on the Ohio River. Up until the completion of this project, the rapids formed by the "Falls of the Ohio" was an impediment to navigation. Except for high flow periods, flatboats and steamboats were required to offload above the Falls and reload below them. The canal and locks eliminated this bottleneck to the flow of passengers and goods headed to St. Louis and New Orleans, and other downriver markets. The Louisville and Portland Canal, and McAlpine Locks and Dam contributed significantly to the expansion of the population and commerce in the early days of the United States.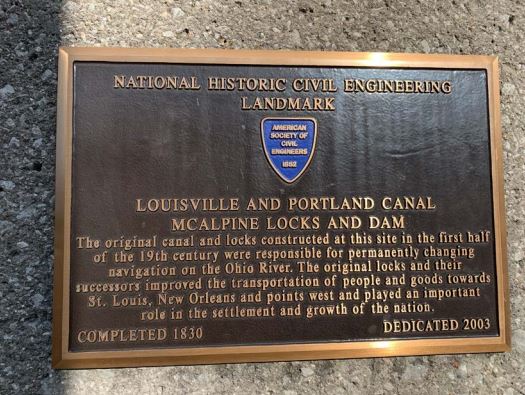 Resource
The Falls City Engineers: A History of the Louisville District, Corps of Engineers, United States Army, by Leland R. Johnson, 1975.