Marlette Lake Water System
Completion Date
1873-1887

Project Type
Water Supply & Control

Location
Virginia City, NV
39 13 09.5 N
119 47 20.1 W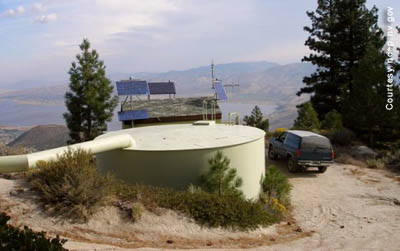 The Marlette Lake Water System was the first American system developed to overcome mountainous topography. Its inverted siphon, sustaining a head of over 1,700 feet, was the greatest in the world - more than double the next highest.
"The pouring into this City and Gold Hill of a large stream of water … was the signal for a general jollification and rejoicing of 12 or 13 thousand people."
- The Virginia Evening Chronicle, August 7, 1873 In celebration of the first-phase completion of a small diversion dam on Hobart Creek
In the mid-1800s Virginia City was America's greatest producer of high-grade silver and gold ore. When mining activities began, natural springs provided water to the camps. As the population grew, the Virginia and Gold Hill Water Company was formed to address the need for more water. The company first drew water from tunnels that had been driven into the mountains by prospectors. Water was stored in wooden tanks and sent through pipes into the town.
But the water supply soon began to wane, threatening a drought. In 1871 the company consulted with engineer Hermann Schussler to develop a plan to bring water from a new source in the eastern Sierra Nevada Mountains.
Marlette Lake Water Supply was the first American water system designed to sustain the high pressures generated by the elevation changes in mountainous regions. Its initial inverted siphon was the largest in the world, and it withstood more than double the pressure of any contemporary pressure pipeline.
Facts
The project involved 21.47 miles of pipeline, 45.73 miles of flume, a 3,994-foot incline tunnel, and over 6,200-acre feet of reservoir storage capacity.
The system is capable of delivering about six million gallons of water per day.
The laying of seven miles of over very rough terrain in just six weeks was a remarkable feat considering that all labor was performed by men and mules.
The first stage involved construction of a diversion dam on Hobart Creek, a 4.6-mile wooden flume (channel) from the dam to an inlet tank, and the seven miles of pipe 12-inch, riveted iron pipeline which served as an inverted siphon. The inverted siphon provided a pressure pipeline supplying additional water to the Hobart Reservoir.
The water company installed a second inverted siphon in 1875, as well as another flume from the Hobart Diversion Reservoir. In 1877, workers completed a 4,000-foot long incline tunnel through the Sierra, traversing down one side of a ravine and up the other from the west side of the Sierra.