Milwaukee Metropolitan Sewage Treatment Plant
Completion Date
1919-1925
Project Type
Water Supply & Control

Location
Milwaukee, WI

43 01 21.3 N

87 53 57.3 W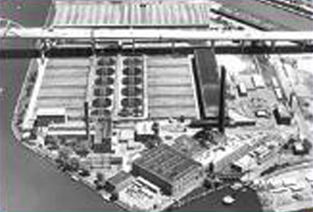 The Milwaukee Metropolitan Sewage Treatment Plant is America's earliest large-scale activated sludge type municipal sewage treatment plant - a major improvement on contemporary methods.
This was America's first large-scale activated sludge plant. The successful operation of Milwaukee's sewage treatment plant led the way for many other American municipalities to adopt its methods of efficient environmental recycling.
Prior to 1925, sewage and industrial waste from the City of Milwaukee and its suburbs (then population 500,000) was discharged to the Milwaukee, Menomonee, and Kinnickinnic rivers, which converge in Milwaukee and flow together through a single outlet into Lake Michigan.
The pollution flowing through the heart of the city caused an almost unbearable nuisance. Although fresh Lake Michigan water was pumped through two flushing tunnels into the Milwaukee and Kinnickinnic rivers, public health problems remained unsolved.
In 1913, the city created a Sewerage Commission to build and develop an intercepting sewer system and a sewage treatment facility. After much experimentation and testing, the commission chose the then-new technology of activated sludge - in which microorganisms convert organic material into simple elements like carbon, hydrogen, and oxygen - as its preferred treatment method.
Facts
The activated sludge process was selected because studies at the the experimental station indicated better clarification, bacterial removal, solids removal, freedom from nuisance (odors for example), rate of purification per unit area, and the opportunity to use the water sludge in the production of fertilizer.
The first sewage treatment plant, located on Jones Island, was designed to treat 85 million gallons of sewage daily. It began treating waste in 1925. The plant was expanded to treat an additional 115 million gallons of sewage daily and was put into operation on December 3, 1935.
Treatment involves: screening to remove large particles; grit (sand and gravel) removal by settling; inoculation with previously activated sludge; aeration; clarifying the effluent; and dewatering and sterilizing the sludge.
The activated sludge process produces a large quantity of solids as a by-product. The solids are approximately 75 percent organic matter, high in nitrogen, and contain some phosphorus. The dewatered sludge is converted into fertilizer called Milorganite, short for "Milwaukee Organic Nitrogen."
Sewage is brought to the plant through a comprehensive system of intercepting sewers that terminate in four siphons built under the harbor entrance, 75 feet below water level.