Location
Memphis, TN
35 07 43.6 N
90 04 34.7 W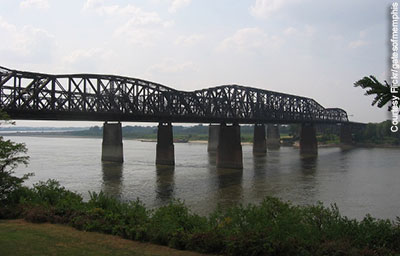 The Memphis Bridge, a cantilever truss designed by George S. Morison, was built entirely of the then-newly developed basic open hearth steel. When completed, its 790-foot main span was the longest railroad truss in North America.
The Memphis Bridge (now called the Frisco Bridge) comprises three spans across the Mississippi River. With a main span measuring over 790 feet, it was one of the longest railroad bridges in the world upon completion. The renowned George Morison, after whom the bridge is unofficially named, served as Chief Engineer.
The bridge was built entirely of open-hearth steel, a newly developed material at the time. Though the Bessemer process had revolutionized the steel industry after the Civil War by enabling mass production of rail-quality steel, inherent phosphorous impurities rendered it unsuitable for structural shapes that needed tensile strength. The open-hearth process, on the other hand, produced a superior steel perfectly suited for structural shapes like bridges and tall buildings.
Facts
This steel cantilever truss structure features a 790-foot main span and two additional 600-foot spans. Its 65-foot height above the water was the greatest clearance of any U.S. bridge of that era.
Deep caisson pier construction drove the first channel pier nearly 100 feet below the water's surface.