Location
Oporto, Portugal
41 08 23.4 N
8 35 49.6 W

When opened, the Ponte Maria Pia Bridge was the longest iron arch bridge in the world, with a 160-meter-long parabolic arch.
"...a great, elegant undertaking of modern art..."
- Jose M. Lopes Cordeiro, head of the industrial archeology program, University of Minho, Portugal, 1988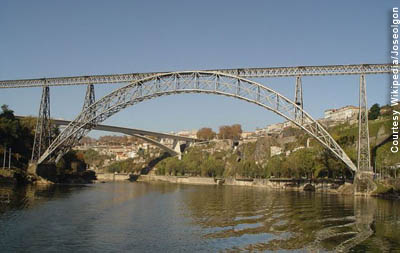 Built to cross one of the steepest valleys along the Douro River, the Ponte Maria Pia was the first major work to emerge from the French firm of Gustav Eiffel and Company, establishing Eiffel as an important bridge designer and civil engineer of his day. Resting on a parabolic arch spanning 160 meters, the Ponte Maria Pia was the longest iron arch bridge in the world at the time of its construction. The bridge's latticework construction reflects the later design of the well-known Eiffel Tower, erected in Paris to commemorate the International Exposition of 1900.
The success of the Ponte Maria Pia provided the inspiration for later bridge design throughout Europe, especially where steep river gorges had to be crossed. Among these are the Garabit Viaduct in France, designed by Eiffel, and the Luis I bridge, built on the Douro just upriver from the Ponte Maria Pia and designed by Eiffel's chief assistant, Theophile Seyrig.