U.S. Army Corps of Engineers Waterways Experiment Station
Project Type
Research & Educational

Location
Vicksburg, MS
32 18 04.2 N, 90 52 18.0 W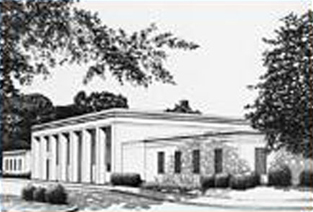 The U.S. Army Corps of Engineers Waterways Experiment Station was the first federal hydraulics research facility and is now the Corps' largest engineering and scientific research facility.
"Former skeptics became ardent enthusiasts as WES rapidly pushed back the frontiers of both applied and theoretical hydraulics research."
- Larry Carruth Chairman, History & Heritage Committee, ASCE Mississippi Section, 1986
The U.S. Army Corps of Engineers Waterways Experiment Station (WES) was created as a result of the tragedy of the 1927 Mississippi River flood, one of the most horrific floods in American history. The devastation affected seven states, but Mississippi, Louisiana, and Arkansas were hardest hit. Over 16 million acres were flooded, 162,000 homes damaged, and 9,000 homes completely destroyed.
Congress established the WES in 1929 to provide research support for the Mississippi River and Tributaries Project, a vast flood control plan for the entire lower Mississippi valley. Even during its fledgling years, however, the organization began to fundamentally transform hydraulics research in the U.S.
The WES laboratory complex has grown into the principle research, testing, and development facility of the Corps of Engineers. The complex of five laboratories supports in-depth studies of coastal engineering, dredging, earthquake engineering, geology, weapons effects, soil and rock mechanics, and more.
Facts
Before WES, rivers and harbors work were mostly based on field data and experience. After WES, more application was made of model experiments employing the principles of hydraulics. By the mid 1930s, the laboratory's reputation as a major research center had been affirmed and small-scale hydraulics research was firmly established as an important part of the U.S. Army Corps of Engineers' civil works program.
Another way that the WES has made significant contributions to the civil engineering profession is through the publication and distribution of over 3,000 research reports. In addition, principles, practices, and techniques developed in the WES laboratories have resulted in countless advancements in the planning, construction, and maintenance of the nation's water transportation infrastructure.
Resources
Gordon A. Cotton, A History of the Waterways Experiment Station, 1929-1979 , Vicksburg, MS: Water Experiment Station, 1979.

National Historic Civil Engineering Landmark plaque, The U.S. Army Corps of Engineers Waterways Experiment Station