White Pass & Yukon Route Railway
Project Type
Roads & Rails

Location
Skagway, Alaska, United States
to Whitehorse, Yukon Territory, Canada
59 37 28.0 N
135 08 18.3 W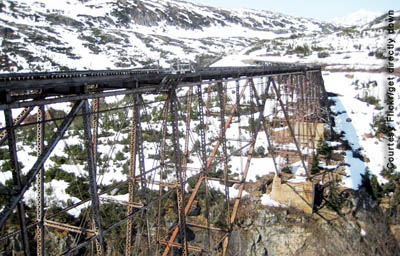 American and Canadian engineers constructed the White Pass & Yukon Route Railway, extending from Skagway, Alaska, to White Horse, Yukon Territory, in only 27 months, representing the first cold region engineered construction in Alaska.
"It is no disparagement to other mountain railroads to say that the construction of the White Pass & Yukon is among the most brilliant feats of railroad engineering, in view of the tremendous difficulties to be encountered and the shortness of time in which the work was done."
—Victoria Colonist, British Columbia, 1990
Combining British financing, American engineering, and Canadian contracting, the White Pass & Yukon Route was the first major civil engineering project on the continent above the 60th degree of northern latitude. Completed in 27 months using only hand tools, black powder, and regional timber, the White Pass & Yukon Route rises almost 2,900 feet from sea level at the port of Skagway to the White Pass summit on the U.S.-Canada border in just 20 miles, accomplishing one of the steepest climbs of any railroad in the world.
Built for approximately $10 million to promote the Klondike Gold Rush around the turn of the century, the 110-mile narrow-gauge railway remained an important part of the mining industry — transporting gold, silver, copper and lead ore from Canadian mines across the coastal mountain range to Alaskan ports — until it was closed during a period of low metal prices in 1982. The railway found new life six years later as a thriving excursion line serving the cruise-ship industry.
Facts
The White Pass & Yukon Route follows a path originally laid out by George Brackett, a former construction engineer on the Northern Pacific Railroad who built a 12-mile toll road into the mountains in 1897. Brackett's right-of-way was purchased in 1898 by the White Pass & Yukon Railroad Company for $60,000.
At the height of its operations, the White Pass & Yukon Route also ran passenger and freight docks at the port of Skagway, a fleet of Yukon River steamboats, a passenger-bus service north of Whitehorse, a frontier airline, and several hotels.
During World War II, the railway played an essential role in transporting laborers and materials to build the 1,520-mile-long Alaska Highway, considered an essential transportation link for troops and equipment to Alaska and northwest Canada during World War II.
Resources
Graham Wilson, The White Pass and Yukon Route Railway ; Wolf Creek Books, 1998
Stan Cohen, The White Pass & Yukon Route , Missoula, MT: Pictorial Histories Publishing Company, 1996.