Zion Mt. Carmel Tunnel & Highway
Location
Washington County, UT
37 12 40.7 N
112 57 29.6 W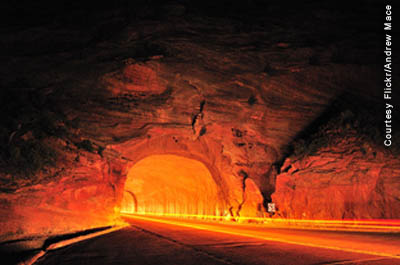 The Zion Mt. Carmel Tunnel and Highway includes the longest vehicular tunnel in the National Park system (5,613 ft), which was blasted through the towering sandstone cliffs above Pine Creek Canyon. Construction of the tunnel and highway required extraordinary access through cliff-face galleries for blasting and excavation.
With the dawn of the automobile age at the beginning of the Twentieth Century, the entire nation started to demand better roads. In the 1910s, motorists and businessmen in Utah became aware of the possibilities of tourism as a business. Soon the state of Utah and the federal government responded with a decades-long program to improve transportation to and within Zion National Park.
Several factors argued for a road through Zion National Park:
The population and business growth in this area indicated the need for an all-weather road across the north-south mountain range to the nearest railhead at Cedar City, Utah;
A road through the park would provide a more scenic route of the local scenic wonders;
A growing desire by the local businessmen for more tourist dollars.
Between the years 1923 and 1927, the location for the road was selected and surveyed; then in 1927 the contract was let and construction was completed in July 1930. The National Park Service (NPS), working with Utah's Bureau of Public Roads, undertook the construction of this 25-mile-long Zion Mt. Carmel Highway as one of its first road projects. During the planning and construction of the highway, bridges, and tunnel, the NPS made sure that its design philosophy and guidelines concerning the preservation of the park's natural resources were strictly followed. These guidelines would come to be known as the "NPS-Rustic" style of landscape architecture and engineering.

As part of this highway construction was the building of the Zion Tunnel, the longest constructed vehicular tunnel in the NPS system. This 5,613-foot-long tunnel was blasted through the towering sandstone cliffs above Pine Creek Canyon. Due to difficulties presented by the inaccessible and unstable site chosen for the tunnel, construction required an aerial tram and extraordinary access through six cliff-face galleries for blasting and excavation of the 22-foot-wide by 16-foot-high tunnel. The tunnel had to be built from the inside out through the galleries; they used a "stoper drill" and ring drilling to construct the tunnel and complete this imaginative project. Bridges had to be constructed at both tunnel portals, connecting it to the highway. In line with the "NPS- Rustic" style guidelines, these techniques enabled the construction to impact the visible landscape as little as possible.
Resource
Garate, Donald. (2001) The Zion Tunnel: from Slickrock to Switchback . Zion Natural History Association, Inc.: Springdale, Utah