ASCE's Engineer Tomorrow initiative is focused on ensuring that today's civil engineers gain the necessary knowledge, skills, and experience to sustain the profession in the future.
Engineer Tomorrow
Challenges of the future
Complex challenges facing 21st-century society require professional civil engineers to advance their technical excellence and leadership to continue to protect the public. Future civil engineers will need to master many new fields, such as sustainability, computer applications, advanced materials, nanotechnology, and the like.
Knowledge, skills and attitudes for responsible charge
Through its comprehensive Civil Engineering Body of Knowledge for the 21st Century (CEBOK). ASCE has defined the knowledge, skills, and attitudes that civil engineers need for exercising responsible charge in the practice of civil engineering.
Learn more about the CEBOK and download valuable resources.
Educational needs
While the knowledge, skills and attitudes needed to practice civil engineering have increased steadily, the educational standards for our profession have remained virtually the same for decades. The current engineering education will not be sufficient to prepare civil engineers to address the civil engineering challenges of the future.
The need
Civil engineers need knowledge to meet the challenge of a changing world.
Innovations in technology and materials are changing the way we work.
The Civil Engineering Body of Knowledge (CEBOK) is more complex than ever before.
Civil engineers need technical, leadership, and complex problem-solving skills to protect the health, safety, and welfare of communities.
We must prepare the profession for what's next.
High standards are necessary to build the infrastructure that will protect and sustain our communities today and for generations to come.
Post-graduate education and advanced technical, leadership, and problem-solving skills are the hallmarks of esteemed professions.
We must advocate for the right solutions and assume leadership positions on multi-disciplinary teams.
We must build the civil engineer of the future.
We must evaluate professional and technical standards and set the benchmark for future generations of civil engineers.
By mentoring young civil engineers and being a role model, we set expectations for excellence in professional practice.
ASCE supports the continuous development of civil engineers with essential learning and development resources such as:

Post-graduate education
Certifications
Technical and leadership training
Webinars
Mentored experience
Networking opportunities
A message for students on how you can engineer tomorrow
Let's start building the engineer of tomorrow, today.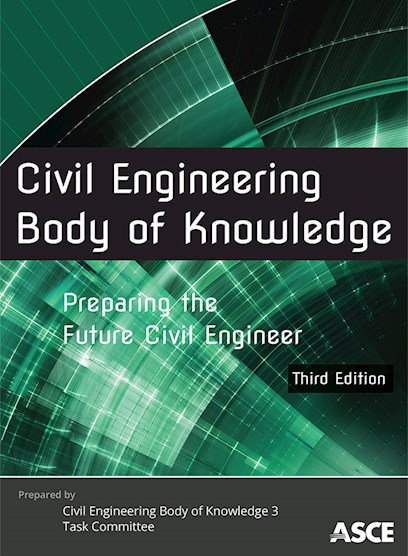 Civil Engineering Body of Knowledge
Get a free copy of ASCE's Civil Engineering Body of Knowledge (CEBOK3).
Additional resources to help you Engineer Tomorrow