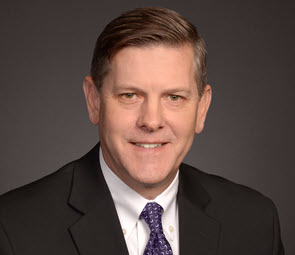 Michael R. Helms, P.E., D.WRE, F.ASCE, water market leader and vice president of Stanley Consultants, Muscatine, Iowa, has been named a fellow by the ASCE Board of Direction.
Helms' professional experience includes 34 years in the construction, engineering, and consulting industry. He has expertise in the water resources and transportation sectors, as well as significant project experience in the federal government and international arenas. He has managed and delivered more than $1 billion in water resources engineering–related projects. His extensive experience in building and leading high-performance teams has resulted in strong revenue growth and profitability for Stanley Consultants. He is recognized as a change agent and mentor of team members in an environment conducive to achievement of results, continuous improvement, and learning.
Prior assignments include managing the firm's U.S. Federal & International Programs. He and his team led efforts to develop and deliver major projects and programs for the U.S. federal government worldwide, focusing on business development and project/program execution, which doubled the size of the market in three years. He has held positions within Stanley Consultants as regional manager, office manager, operations manager, and senior project manager. He has significant design and project management experience in transportation, water resources, and site development, both throughout the United States and around the world.
Helms is continually motivated to improve people's lives through civil engineering. He notes a series of projects – small in scope and budget but big on positive impact – as an example. For nine years he served as city engineer for Camanche, Iowa (population 4,300). Established in the 1880s on river bottom soil, for over 100 years Camanche had no need of storm sewers, as rainwater was simply directed to ditches where it percolated into the sandy soil. However, as new housing developments complete with roads, curbs, and gutters pushed the city inland, there came a point where the water had nowhere to go.
By 1997 when Helms started as city engineer, pools of standing water had plagued the city for decades. Helms successfully persuaded city officials to commission a study to determine how to resolve the problem. With community-wide support, he applied for and received a CDBG grant to help finance the $5 million project. The project was designed and constructed, and resolved the flooding issue. Though it wasn't a large or complex project, it improved the lives of those impacted.
A longtime member of ASCE, Helms has held multiple offices within his local chapter, including serving as president for three years. He is also a member of the Society of American Military Engineers (SAME) Rock Island Post, having just completed a term as its president; the American Council of Engineering Companies (ACEC); the Quad City Chamber of Commerce; and served on the Iowa State University Civil Engineering External Advisory Council for 14 years.
Helms holds a bachelor of science degree in civil engineering from Iowa State University and has a Certification of Professional Achievement, Executive Development Program from Northwestern University's Kellogg School of Management.