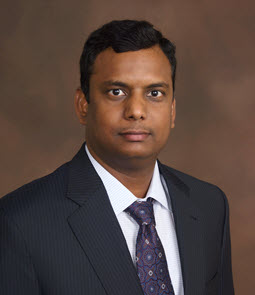 Mahendrakumar Madhavan, Ph.D., P.E., F.SEI., FICE, F.ASCE, a professor in the Department of Civil Engineering, Indian Institute of Technology Hyderabad, India, has been named a fellow by the ASCE Board of Direction.
Madhavan's most significant research achievements are in developing cold-formed steel housing system to promote sustainable infrastructure in residential segment through the use of cold-formed steel (CFS). In this endeavor, he has carried out in-depth research on various structural components of the housing system, such as wall panels, columns, beams, floor systems, and connections between various components, both through large-scale testing and numerical simulation.
In particular, his research work on CFS built-up sections and connections will help aid in the construction of midrise structures (8-10 stories), thereby benefiting the urban poor in highly congested inner-city locations. His research work has resulted in the development of several strength predictor equations along with design examples that can be readily used by design engineers to ensure that the benefits of this translational research reach the common man through a cost-effective and sustainable housing system.
He has also contributed to the revision of IS 801: Indian Design Code for Cold-formed Steel Members, based on the original research work carried out at IIT Hyderabad to fulfil the Government of India's goal of "Housing for All" through sustainable construction. In particular, a new design methodology termed direct stiffness-strength method (DSSM) along with CFS built-up systems developed by Madhavan and his students is currently incorporated in the draft of IS 801 to promote sustainable construction practices in India and around the globe.
Madhavan is active in creating awareness among the civil engineering community and policymakers on the importance of adopting steel-intensive sustainable construction. He recently conducted the First Indian Structural Steel Conference (ISSC), Jan. 6-8, 2022, and was well-received by the worldwide structural steel community. It was the first international conference to be held in India exclusively devoted to structural steel. A galaxy of leading international researchers from the UK, U.S., Japan, Australia, Singapore, Hong Kong, and India delivered keynote talks and shared their latest research work.
Madhavan has been associated with ASCE since becoming a student member in 2003. Currently, he is a member of the ASCE Structural Engineering Institute's Cold-Formed Steel Members Committee, and the Technical Administrative Committee on Metals. He serves as an associate editor for ASCE's and on the editorial board of the Journal of Structures (Elsevier). Madhavan is a fellow of the Institution of Civil Engineers, London, and is also the first Indian to be elected as a fellow of ASCE's Structural Engineering Institute.
He obtained his doctoral degree and MBA (finance) from the University of Alabama at Birmingham and his master's degree from the National University of Singapore. He is a registered professional engineer in the State of Alabama.