Chesbrough's Chicago Water Supply System
Completion Date
1864 - 1869

Project Type
Water Supply & Control

Location
Chicago, IL
41 53 49.82 N, 87 37 27.92 W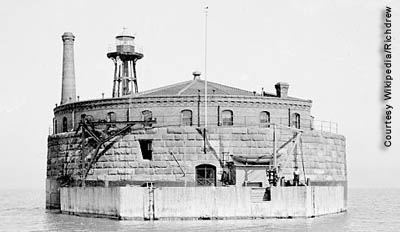 Designed to supply 50 gallons of potable water per capita per day for one million people, the Chicago Water Supply System consisted of a two-mile tunnel under Lake Michigan with an intake crib.
Constructed to provide a safe, potable water supply for the citizens of Chicago, Ellis Chesbrough's Chicago Water Supply System was the first major system to utilize offshore intake systems. The system includes the landmark Chicago Water Tower and the Chicago Avenue Pumping Station. Its subaqueous tunnel was a pioneering effort in American civil engineering.
In earlier years, settlers either carried water in buckets from the Chicago River or bought water from peddlers who delivered water in horse-drawn wagons. A cholera epidemic stormed Chicago in 1849, claiming one out of every 36 residents. Many successive years of cholera and dysentery epidemics finally prompted the Illinois State Legislature to create a Board of Sewerage Commissioners to address the need for safe water.