Stone Arch Bridge of Burlington Northern Railroad
Location
Minneapolis, MN
44 58 50.8 N
93 15 12.3 W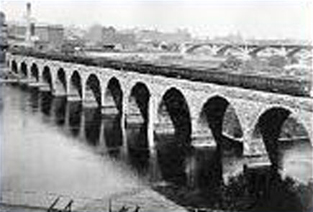 "What beauty. What artistry. What flowing curvature carved into the lofty arches from inanimate materials brought to life by craftsmanship."
- Bob Wiedrich Chicago Tribune, April 30, 1975
The Stone Arch Bridge of the Burlington Northern Railroad is believed to be the oldest mainline railroad bridge over the Mississippi. It is acknowledged to be one of the finest stone viaducts in the world, due to its massive masonry, lofty arches, and graceful curvature.
The bridge was designed as a double-track structure, 2,100 feet long, 76 feet high, and includes 23 circular stone arch spans. The project required 100,000 tons of stone and 49,000 cubic yards of masonry.
In 1994, this landmark structure was preserved, architecturally rehabilitated, and converted into a pedestrian and bicycle trail. Today it connects downtown Minneapolis with the University of Minnesota.