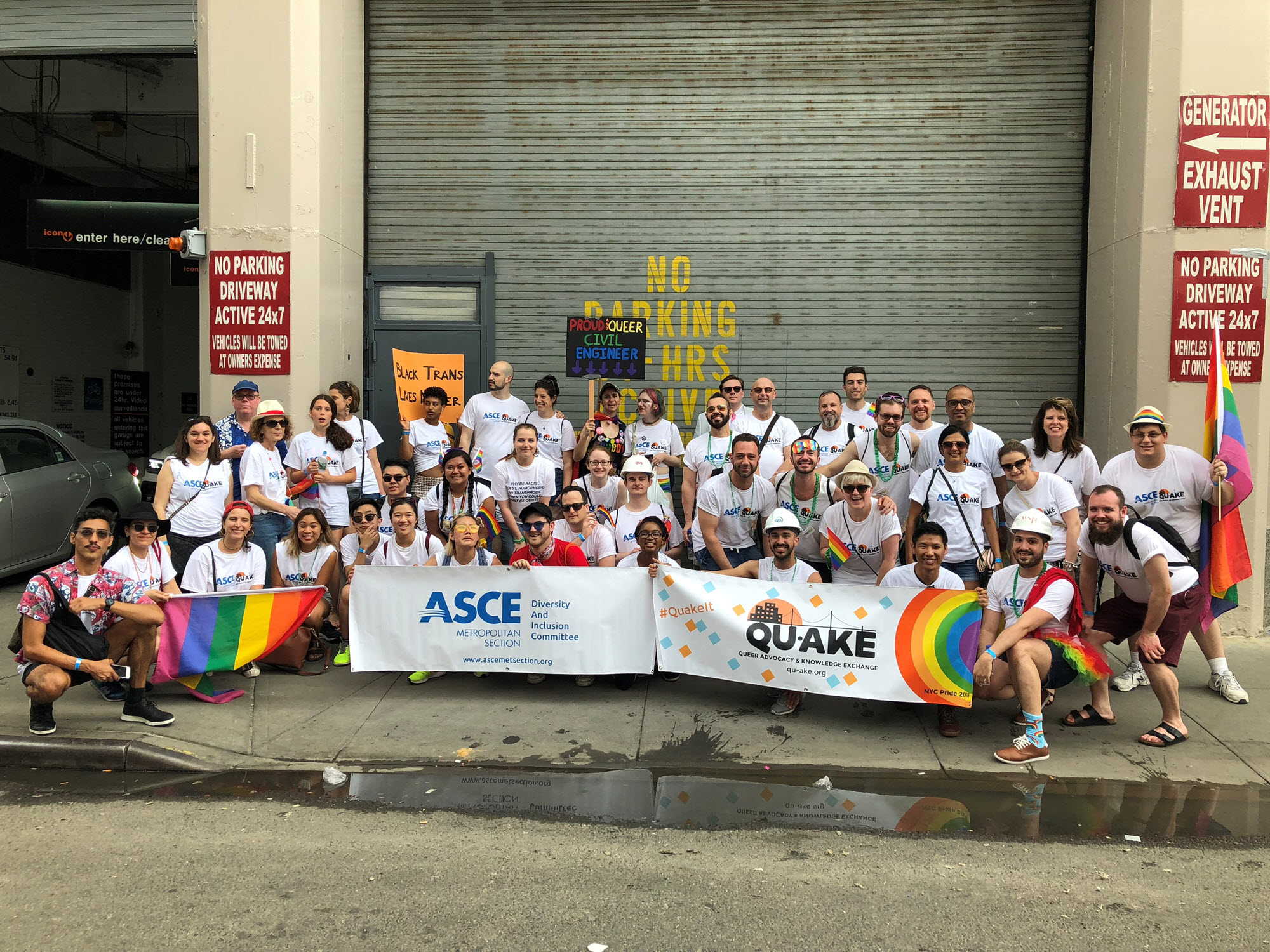 Guillermo Díaz-Fañas could have stayed quiet.
Growing up in the Dominican Republic, Díaz-Fañas, C.Eng, Ing., P.E., M.ASCE, was different in a place where normalcy reigned. He was exceedingly smart. Exceptionally ambitious. And, in perhaps his most significant divergence from community expectations, he was gay.
"I remember, I was pointed out always as, 'Oh, he is a little sissy, he has a lot of mannerisms,'" Díaz-Fañas said.
Guillermo Díaz-Fañas could have gotten angry.
Díaz-Fañas came to the United States to attend graduate school as a Fulbright Fellow. He moved to New York City and started a promising civil engineering career specializing in geotechnical and earthquake engineering. And yet he couldn't escape the feeling of being ostracized.
"I've suffered discrimination and even, to some extent, harassment for being different," Díaz-Fañas said. "A lot of microaggressions and commentary that happened all the time. It got very dark eventually."
But he didn't stay quiet, nor did he get angry. Instead Díaz-Fañas started Qu-AKE – the Queer Advocacy Knowledge Exchange – a nonprofit serving and supporting LGBTQ+ professionals who work in the built environment.
"Instead of looking at the negative things, I got this energy inside of me that told me, 'Go make something positive out of it,'" said Díaz-Fañas, P.E., M.ASCE.
"I started doing some research, and I saw that there was no organization out there for LGBTQ+ individuals in civil engineering. That's nonsense. So I said, 'You know what? Let's just focus and create one.'
"So, I gathered a few colleagues and friends, we came up with some ideas and eventually that's how Qu-AKE was born."
All about visibility
One of the greatest challenges for the LGBTQ+ community in civil engineering continues to be a lack of visible role models.
"When I talk to career professionals and especially more senior ones, they tell me stories that identify with me," Díaz-Fañas said. "We found this commonality that we do not necessarily know leaders who identify as queer, because the reality is that our profession tends to be a very conservative, very traditional one."
Certainly, that's what Tricia Clayton found as a civil engineering student in North Carolina. So much so that she lived what could almost be called a double life as an undergraduate.
"I had my set of friends who were my gay friends, and they were separate from my engineering friends that I met through school. And those groups never met, never interacted," said Clayton, who recalls coming out as queer, to herself, during her first year of college. "I kind of liked that compartmentalization of my life, but I realized how unhealthy it was when I had two different personalities based on the group of people I was around.
"I just didn't see any LGBTQ professors – at least not out LGBTQ individuals as faculty members. Not that many as students either. I'm sure they existed, but we just didn't talk about it."
Now an assistant professor in the civil engineering department at the University of Texas at Austin, Clayton, Ph.D., A.M.ASCE, thinks not talking about it might be part of the problem.
"Often when LGBTQ folks talk about their personal lives, it's seen as, 'Why would you bring that up?' Or 'That's not an appropriate thing to talk about in a professional setting,'" Clayton said.
"But when you're in a conservative workplace environment, it's totally OK to talk about your spouse and your family life if it's a more hetero-normative sort of family. So that's one of the issues."
Clayton continued, "And in engineering, the talk is usually technical. It's a technical space, so there's no need to bring in your personal story – at least that's the perception. We don't bring our personal stories into the classroom enough in engineering education, so then you don't have that visibility."
Having merged those two so-called identities into one during her graduate school years in Seattle at the University of Washington, Clayton has worked to be an LGBTQ+ role model to her students in Austin and is now participating in a Qu-AKE initiative called the BE Queer Project, a program to boost LGBTQ+ visibility in built-environment professions.
She says it remains challenging to resist the urge to compartmentalize and be so open and vocal, but the cause is one that is well worth leaving her comfort zone.
"I'm continuously trying to be more out and be more visible to try to be that person that I wish I'd had as a student," Clayton said. "It's really important to me. I want to continue to grow myself, and I hope it helps others to grow too."
Evidence of an evolution
There are signs of progress writ large.
In 2017, the ASCE Board of Direction voted to adopt new language into the Society's Code of Ethics–Canon 8, stating that "Engineers shall, in all matters related to their profession, treat all persons fairly and encourage equitable participation without regard to gender or gender identity, race, national origin, ethnicity, religion, age, sexual orientation, disability, political affiliation, or family, marital, or economic status."
Signs of progress around New York, as well.
This Sunday – for the second consecutive year – members of the ASCE Metropolitan Section will participate with Qu-AKE in the NYC LGBTQ+ Pride March. This year NYC will host World Pride, in commemoration of the 50th anniversary of the Stonewall uprising. Qu-AKE is expecting representation from over 15 firms, as well as a float for it organization.
"It will be a memorable event," said Daniela Zellers, P.E., M.ASCE, the Met Section vice president. "It's fundamental for awareness. And it's important for employers to have diversity in their workplace, hearing different perspectives and how that can be constructive to the work environment. All these different points of view contribute to innovative ideas, new ways of thinking, thinking outside the box, and are truly beneficial to design companies and engineering companies."
And there are signs of progress on a more personal level.
At 30, Díaz-Fañas already enjoys an extremely successful career as a senior technical principal engineer for WSP USA. ASCE honored him as a 2018 New Face of Civil Engineering, and the Engineering News-Record followed this year, naming him one of New York's Top Young Professionals.
Where he used to worry over bringing his then-boyfriend (now husband) around work events, he no longer gives it a second thought.
"Now, people ask, 'Where is Saïd? Why didn't you bring him to the office party?' Or with ASCE or other organizations that have conferences, people ask about my husband more than they ask about me," Díaz-Fañas said, laughing.
"I feel that I have been able to leave those struggles behind. I know I have a track record in my short time working in my field that proves that I do have substance to my work. I have the backup of my company. I have the backup of organizations like ASCE and Qu-AKE. I know that I feel protected.
"I'm very thankful."
As Qu-AKE celebrates its one-year anniversary, he knows that while plenty of work remains to be done, there are plenty of engineers to help.
"To the others out there, I know it's hard to come out. I know it's hard to be open, because sometimes you do not have a mechanism of protection," Díaz-Fañas said. "That's why Qu-AKE exists. You can reach out to us for advice and we can try to help. We are here to advocate for promotion and inclusion of our community.
"Because at the end of the day, we are not just gay or lesbian or trans or women or men, we are people. And we are people that serve people."