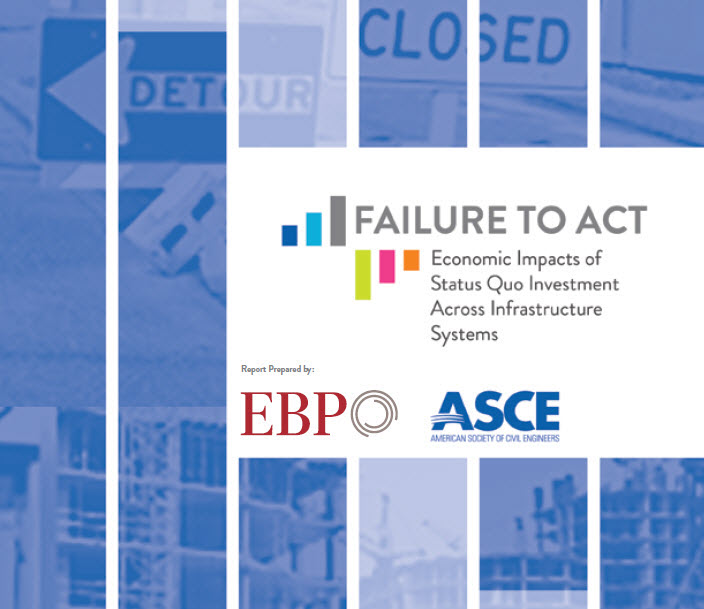 Just as the new Biden administration makes infrastructure investment a cornerstone of its efforts to boost the economy, ASCE is driving home the need, releasing the latest report in its Failure to Act series showing the toll inadequate infrastructure takes on the economy.
Failure to Act: Economic Impacts of Status Quo Investment Across Infrastructure Systems quantifies the impact of inadequate infrastructure down to the family level – costing $3,300 per family per year. At the macro level, the nation's economy could see the loss of $10 trillion in GDP and a decline of more than $23 trillion in business productivity cumulatively over the next two decades if current investment trends continue.
"There's no better way to jump-start the economy, while also lessening the financial burden on businesses and families, than by making a down payment on our infrastructure now – transit systems, bridges, water treatment plants, and the grid – to ensure these systems are sustainable, resilient, and safe for communities across the nation," ASCE Executive Director Tom Smith said.
Major sectors like manufacturing, health care, housing, food services, recreation, and more would be harmed without greater infrastructure investment, the study said. U.S. manufacturers are especially vulnerable because producing goods – such as cars, chemicals, foods, and metals – requires energy, water, transportation systems, and ports for goods being shipped.
ASCE compiled the findings with the help of a research team composed of EBP, Downstream Strategies, Daymark Energy Advisors, and the Interindustry Forecasting Project at the University of Maryland. The analysis is based on prepandemic data. The complete report is available online.
Among its highlights:
• The infrastructure investment gap totals more than $2.6 trillion by 2029 and will grow to exceed $5.6 trillion by 2039. The bulk of the gap is due to surface transportation needs, including roads, bridges, passenger rail, and transit systems.
• The gap for surface transportation continued to grow from the previous study in 2016 – from $1.1 trillion to $1.2 trillion over 10 years.
• Trends-extended analyses find that funding will cover only 57 percent – approximately $3.5 trillion – of infrastructure needs through 2029, and 56.6 percent – $7.3 trillion – through 2039 for the aggregate of surface transportation, water transportation, airports, water, wastewater, and electricity systems.
• An unaddressed gap will cost the economy more than $10.3 trillion in GDP through 2039. Losses are expected to include $2.4 trillion in exports, while imports into the U.S. economy will decrease by about $1.8 trillion, resulting in a $4 trillion loss of trade, and a further increase of $626 billion in our national trade deficit.
• As a result of this underperformance, job losses will mount annually, and by 2039, the U.S. economy is predicted to support 3 million fewer jobs than under baseline conditions.
The new report comes on the heels of these recently released Failure to Act reports, with their key findings:
Electricity – An additional investment of $16.9 billion per year between now and 2039 in our electricity infrastructure can protect 540,000 jobs and $5,800 per household in personal income.
Water and wastewater – Making water infrastructure more reliable can prevent $250 billion in increased costs to businesses by 2039.
Surface transportation preliminary findings – If industry costs are passed onto customers, costs per household could be as high as $12,500 over 20 years, or $625 per year. Losses to households and industries will amount to $677 billion over the 2020-29 period and $1.5 trillion during the 2030-39 decade.
The report not only builds on its predecessors, it serves as a prelude to ASCE's all-new 2021 Infrastructure Report Card, set for release March 3. Get details and register for the virtual release online.