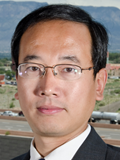 Guohui Zhang, Ph.D., P.E., F.ASCE, an associate professor in the Department of Civil and Environmental Engineering at the University of Hawai'i at Manoa, has been named a fellow by the ASCE Board of Direction.
Zhang's primary research areas include transportation system resilience analysis; large-scale transportation systems modeling; sustainable traffic network infrastructure design, planning, and operation; traffic sensing and senor data analytics; artificial intelligence in transportation; connected and autonomous vehicle systems; traffic-impacted public health; cyber-transportation systems; and transportation safety and security. He has published more than 80 peer-reviewed journal articles and technical reports and presented his research contributions at prestigious international and national conferences. He has developed externally funded active research programs sponsored by various funding agencies with a total award amount of more than $5 million.
Zhang serves as a member of ASCE's Connected and Autonomous Vehicle Impact Committee and the Transportation Research Board's Information Systems and Technology Committee, as well as a panelist for multiple National Collaborative Highway Research Program projects. He has served as an associate editor for four journals, as a TRB paper review coordinator, and as a referee for multiple academic journals and conferences. He earned his doctorate from the University of Washington.