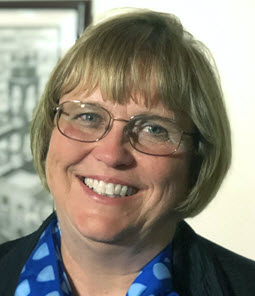 Lehman, P.E., ENV SP, F.ASCE, has nearly four decades of multidisciplinary experience in transportation and facilities engineering, including her current position as the director of U.S. infrastructure for GHD, leadership roles at Parsons, and terms as chief operations officer and interim executive director for the New York State Thruway Authority.
"It's an honor to represent ASCE and the civil engineering profession as the Society president," Lehman said. "And I look forward to the challenge."
Her presidential role will mark her fifth stint on the ASCE Board of Direction – she currently serves as the board's treasurer; and was assistant treasurer, 2018-2020; Zone 1 vice president, 2001-2003; and District 1 director, 1993-1996.
Also a member of ASCE's Industry Leaders Council, Lehman's many past ASCE commitments include three years on the Environmental and Water Resources Institute board of governors, serving a second term on the Committee on America's Infrastructure, a variety of other Society-level committees, and five years of officer service to the Buffalo Section.
"I've made a lifelong commitment to ASCE and been involved in a lot of things over a lot of time," Lehman said. "So I feel I have an interesting voice to add – to be able to right some of the wrongs in the profession right now and really set us up to be the leaders that we're meant to be."
Lehman's Society title now is president-elect-elect until she assumes the role of president-elect during the Society's annual business meeting as part of the ASCE 2021 Convention in October. A year later, she will take the Society reins as president for 2023.
"I consider this a three-and-a-half-year-long job," Lehman said. "I'll give myself this week off, but we start Monday."
Elsewhere on the ballot, a constitutional amendment that would grant student members voting rights narrowly failed to pass. The amendment received 66.5% votes in favor, 33.5% against, but requires two-thirds approval from voting members to pass.
Complete ASCE 2021 election results:
Technical Region Director
Daniel F. Becker, M.ASCE
Region 1 Governors
Craig F. Ruyle, P.E., M.ASCE
Beth Ann Smith, P.E., BCEE, M.ASCE
Region 2 Governor
Patrick J. Sullivan Jr., P.E., M.ASCE
Region 3 Director
Kenneth R. Mika, P.E., M.ASCE
Region 3 Governor
Jesse D. Jefferson, P.E., PTOE, M.ASCE
Region 4 Director
Findlay G. Edwards, Ph.D., P.E., D.WRE, BCEE, F.ASCE
Region 4 Governors
Colette Easter, P.E., M.ASCE
Maneesh Krishnan, P.E., M.ASCE
Region 5 Governors
Robert L. Jackson, P.E., M.ASCE
Bradley M. Williams, P.E., M.ASCE
Region 6 Governors
Sonya Leigh Cooper, Ph.D., P.E., M.ASCE
Lawrence D. Goldberg, P.E., ENV SP, F.ASCE
Region 7 Governors
Molly K. Bennett, A.M.ASCE
Jennifer Jacka-Taylor, P.E., ENV SP, M.ASCE
Region 8 Director
Lawrence M. Magura, P.E., D.WRE(Ret.), F.ASCE
Region 8 Governors
Virginia J. Groeschel, A.M.ASCE
Robert B. Turner, P.E., F.ASCE
Region 9 Governor
Patricia "Tricia" McColl, P.E., M.ASCE
Region 10 Governors
Kamal Laksiri, Ph.D., P.E., F.ASCE
Saliu A. Lawal, C.Eng, M.ASCE
Learn more about the election.