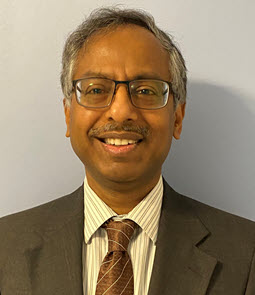 Sreenivas Alampalli, Ph.D., P.E., F.SEI, F.ASCE, former director of the Structure Management Bureau for the New York State Department of Transportation, has been honored by ASCE as the Outstanding Projects And Leaders award winner in government.
The ASCE OPAL awards honor outstanding civil engineering leaders for their lifetime accomplishments. This year's OPAL leadership award winners will be honored at the OPAL Awards Gala, a virtual event held Oct. 8 as part of the ASCE 2021 Convention.
Alampalli is recognized for demonstrated leadership of public sector projects and programs. He has provided progressive leadership, both as a researcher and a director, in a very broad area of bridge asset management, including nondestructive evaluation, nondestructive testing, structural health monitoring, and the pioneering use of FRP for improving bridge safety.
He retired from NYSDOT last year and recently joined Stantec where he will focus on asset management in the bridge sector.
He is a highly influential thought leader in the bridge safety evaluation and assessment field, having distinguished himself by pursuing some of the most technically challenging research problems in the design and deployment of health assessment, reliability assessment, and risk management methods for bridge structures.
In particular, his insightful strategies aimed at tailoring emerging SHM and NDE/NDT technologies for the assessment of bridge health have led to a complete shift in the bridge management domain. Alampalli's approach departs from the black-box approaches that have found so little success, and has not only led to impressive SMH strategies that have outperformed more general, previous strategies, but more importantly, embeds them in established bridge management frameworks.
Alampalli's research portfolio also distinguishes itself by being firmly grounded in impressive full-scale field deployments. In his current position at NYSDOT, he has actually been able to accelerate deployment of state-of-the-art technologies to his state's vast inventory of bridges, and careful review of his record shows that he is one of the most talented experimentalists in the field.
While he has published a tremendous number of papers and reports, probably one of the works he will be best remembered for is his two-volume treatise on bridge health management using NDE/NDT technologies titled Infrastructure Health in Civil Engineering: Applications and Management, co-authored with Mohammed M. Ettouney. This remains one of the most authoritative and best-written books on the subject to date. Alampalli's body of scientific work encompasses the complete coordination of concepts, research, analysis, testing, validation, and incorporation into common practice.
Allampalli has a visible leadership role in the international NDE/NDT community, and has taught a number of courses at major universities. He was director-at-large on the American Society for Nondestructive Testing's Board of Directors from 2003 to 2006, leaving indelible marks and positioning the organization continue its vanguard work. Presently he is the founding president of the International Association for Bridge Maintenance and Safety USA national group and also serves on ASCE Structural Engineering Institute's Technical Activities Division Executive Committee.
He has received numerous awards, including the 2021 Aftab Mufti Lifetime Achievement Award in Civil Structural Health Monitoring, 2014 Bridge NDT Lifetime Service Award, the 2014 ASCE Government Civil Engineer of the Year Award, and the 2013 ASCE Henry L. Michel Award for Industry Advancement of Research.
Alampalli's intellectual brilliance and interdisciplinary spirit place him at the top of his peers at state DOTs and federal agencies.