LiveView Technologies (LVT) is based in Orem, Utah and provides cutting-edge surveillance technology. They combine proprietary software and hardware for a completely mobile, cloud-based security solution.
While LVT now partners with some of the biggest companies in the world in multiple industries, it started as HomeView Technologies in 2005 and provided a way to monitor construction projects. At first, Founder and CEO Ryan Porter and Founder and Executive Vice President of Manufacturing Bob Brenner targeted homeowners with the live video feeds, but quickly realized that it was the contractors who wanted 24/7 surveillance of the sites.
Soon the contractors started to request specific features that they wanted in their surveillance systems, and "We adapted to meet their needs," Porter said. Just as they were making strides in the housing industry, the market crashed in 2008. "That's when we started looking into other verticals like options for departments of transportation and critical infrastructure," said Porter. Today LVT has expanded to retail, law enforcement, and more. However, they still partner with multiple industries within the engineering world, including departments of transportation, remote energy and infrastructure facilities, border control, and more.
What makes LVT different?
LVT's proprietary software and video management system (VMS), the LVT Platform, makes the company stand out from other surveillance companies. Every LVT Unit pairs with the platform. It is a highly organized, cloud-based solution that ensures secure livestreaming and automatically archived videos without the need for costly IT infrastructure. The LVT Platform is where clients can manipulate their cameras, see live feeds, and review past recordings. It is a user-friendly system that allows for easy review and transference of data without the high price tag. Since most security footage does not need to be viewed, the programming in the LVT Platform helps identify threats and alerts the user when something requires their attention. The events that are identified as threats are stored on the cloud, while the 24/7 footage is stored on the unit unless it is requested by the end user. That way broadband is not wasted on transferring unwanted footage, but still allows the end user to easily access their data.
Furthermore, unlike traditional security solutions, LVT relies heavily on overt security solutions. The hardware is easy to spot, and they purposefully draw more attention to it by equipping the units with strobe lights, flood lights, and two-way speakers. Each of these features use top-of-the-line hardware and each connects to the LVT Platform. Additionally, the units are completely mobile and require no wires. Instead, they combine solar power, batteries, and generators when necessary. This allows the units to be deployed anywhere—whether that is a busy street corner or a remote job site.
Lastly, LVT makes security proactive instead of reactive. Traditional covert security and surveillance helps for evidentiary purposes. LVT's technology goes beyond this with active deterrence to dissuade crime and alerts users the instant there is an incursion on their property, giving property owners an opportunity to act before damage is done.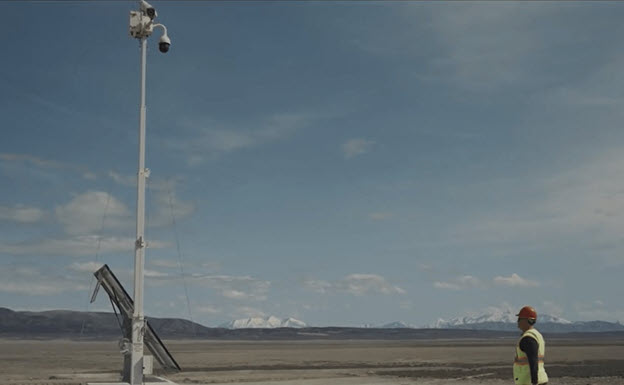 Going beyond surveillance for critical infrastructure
When applied to critical infrastructure, LVT's use cases go beyond typical surveillance as seen by their partnership with the Intermountain Regional Landfill in Fairfield, Utah. It is a private, locally owned 330-acre landfill that provides waste disposal services to more than 2 million people in three counties.
Landfills are notorious for their struggles with fires, which can burn for months. In fact, according to the U.S. Fire Administration there are more than 8,300 landfill fires every year. The Intermountain Regional Landfill is no exception.
Several years ago, the landfill was shut down for more than a day by a large fire. Landfill employees are responsible for fighting any fires, which means they are pulled from their regular duties and put in harm's way. Enter LVT and their mobile surveillance units.
LVT prides itself on being hardware agnostic. They can connect any camera or data input device and connect it to their software. For the Intermountain Regional Landfill, this meant they could connect infrared cameras to the LVT Unit to help detect hotspots before they breakout out into fires. "LiveView Technologies has allowed us to, not only monitor the site 24/7, but to control factors that are unique to landfills, one of which is fires," said Rob Richards, the President and General Manager of Intermountain Regional Landfill.
The LVT Unit alerts Richards and Brian Alba, the Operations Manager, when it detects temperatures over 251° Fahrenheit. This gives Richards, Alba, and their crew an opportunity to act before a fire erupts. Typically, they will compact the hotspot and smother it with dirt or auto fluff—the 25% of a car that is hard to recycle that it is ground up and contains a mixture of materials.
For Richards and Alba, LVT is a tool that helps their business run safer and more efficiently. "You could not put a system in a tougher environment than we have, and it has been 100% reliable," Richards said.
If you are interested in learning more about how LVT helps with critical infrastructure, roads and freeways, construction, and more, visit LVT's website.