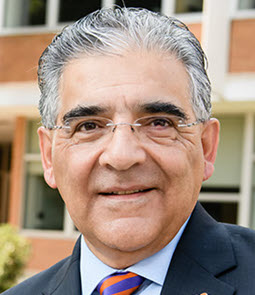 Jesus M. de la Garza, the longtime Vecellio professor of construction engineering and management at Virginia Tech and now faculty at Clemson University, has been honored by ASCE as the Outstanding Projects And Leaders award winner in construction.
The ASCE OPAL awards honor outstanding civil engineering leaders for their lifetime accomplishments. This year's OPAL leadership award winners will be honored at the OPAL Awards Gala, a virtual event held Oct. 8 as part of the ASCE 2021 Convention.
De la Garza, Ph.D., Dist.M.ASCE, NAC, is recognized for innovation and excellence in civil engineering projects and programs related to construction. What has probably distinguished him most is his commitment to mentoring students. Over the course of a 30-year-plus career, he has taught thousands of civil engineers and had a lasting impact on them. He has instructed in undergraduate and graduate-level subjects in construction engineering and management through both the traditional and distance-learning environments. He has mentored and advised more than 110 graduate students.
He was a multiyear faculty advisor to the ASCE student chapter at Virginia Tech and involved with the Concrete for Kids program. Further, as Visiting Eminent Scholar at the Del E. Webb School of Construction at Arizona State University, at Chalmers University of Technology in Sweden, and at Georgia Tech, de la Garza took the opportunity to share his knowledge and experience with students beyond his own institution.
His research is organized along four tracks – project controls, information technology for construction management, project delivery mechanisms, and infrastructure asset management. His sponsored research is valued at more than $15 million and includes funding from the NSF, Construction Industry Institute, Virginia Department of Transportation, Georgia Department of Transportation, Construction Management Association of America, Swedish National Road Administration, U.S. Army Construction Engineering Research Laboratory, and several private firms.
His awards and recognitions include: John L. Tishman Distinguished Lecture, 2013; CII's Richard L. Tucker Leadership & Service Award, 2013; CII's Outstanding Researcher, 2016; CII's Distinguished Professor Award, 2009; a Fellow in the Construction Management Association of America, 2011; et cetera.
ASCE recognitions include the Richard R. Torrens Award, 2018; the Peurifoy Construction Research Award, 2011; the Thomas Fitch Rowland Prize, 1992; and the Student Chapter Faculty of the Year, 1998. For the Society, de la Garza is editor in chief for the Journal of Construction Engineering and Management and has been a continually engaged member. He has also twice been chair of the Commission on Research at Virginia Tech.
He has served as director of the civil infrastructure systems program at the National Science Foundation. He was appointed for two terms as a member of the National Research Council's Board on Infrastructure & the Constructed Environment, and his work on NRC's Committee on Defense Materials, Manufacturing & Infrastructure helps the DoD address a range of complex, systems-based issues. The highlight of his outreach activity is his 2016 TEDx Talk focused on America's Lifelines.
Since 2019, de la Garza has been chair of Clemson's Glenn Department of Civil Engineering.