Maybe it's the recent United Nations Climate Change Conference – COP26 – still lingering.
Probably it's the COVID pandemic that continues to alter everything about the way humans live.
Whatever the source, there was a vibe of urgency to ASCE's 2021 International Conference on Sustainable Infrastructure as it kicked off Monday morning, Dec. 6, as a virtual event.
"The environmental crisis poses a threat to all of us. It urges us all to rethink our working procedures, our production methods, our daily habits, and our lifestyles," said Prince Albert II of Monaco, an avid champion of environmental causes, during his opening plenary address.
"As such, engineers bear a special responsibility."
Other speakers during the opening session spoke more specifically about the importance of securing available and safe water for all in terms of usually reserved for crisis management.
Loïc Fauchon, president of the World Water Council, distilled the challenge down to the need of humans and nature to create an equitable relationship. Shamila Nair-Bedouelle, Ph.D., assistant director-general for natural sciences, UNESCO, said plainly that progress toward accomplishing the UN Sustainable Development Goal regarding the sustainable management of water for all was "already alarmingly off track."
However, these notes of urgency rang as inspiration for Carol Haddock, P.E., M.ASCE, director of public works for the city of Houston who served as the ICSI co-chair along with Larry Goldberg, P.E., ENV SP, F.ASCE.
"Overall, I'd say that I'd view the vibe as optimistic and open for learning," Haddock said. "This year, the pandemic has impacted everyone. We all have a voice in what is working and sharing successes for sustainability in this new world we are navigating."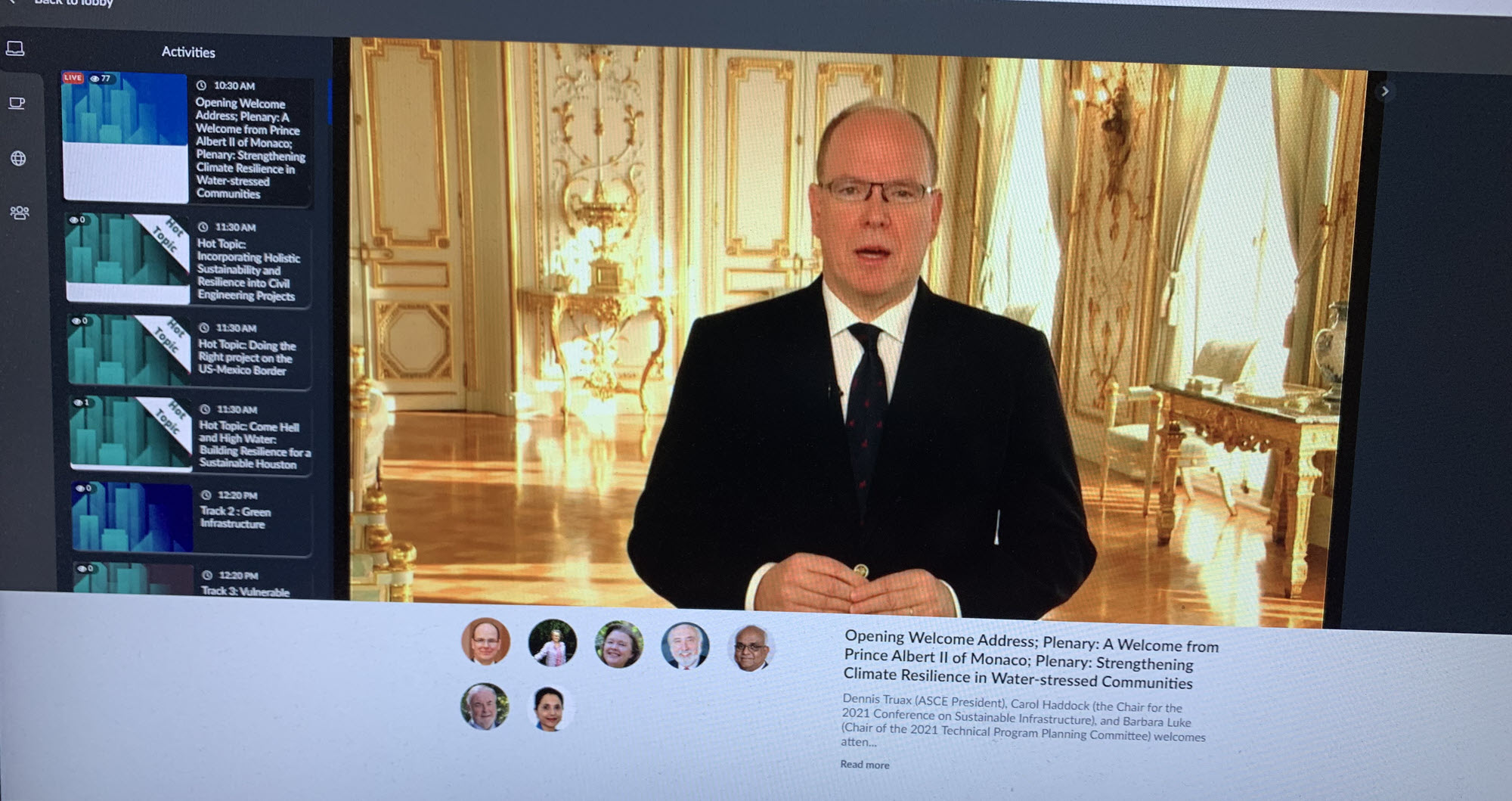 For ICSI chair of the program committee, Barbara Luke, Ph.D., P.E., D.GE, F.ASCE, professor emerita at the University of Nevada, Las Vegas, the urgency isn't new or surprising; it's a matter of fact.
"Today, we are well aware of our perilous environmental and social situation," Luke said. "Some of the dire predictions of the past have been realized. We accept our ethical responsibility to drive and implement solutions. Now we are rolling up our sleeves: sharing data, concerns, experiences, and ideas so that we can engage with our communities, change codes and policies, and bring positive change for the built environment and its inhabitants."
ASCE convenes ICSI every two years, gathering a wide range of professionals engaged in building resilient and sustainable infrastructure. This year's event was scheduled to happen in Houston but moved online due to the pandemic.
"It's very different experiencing a conference virtually compared to in-person," Haddock said. "However, the virtual format opens doors for people who would have been unable to travel to Houston. And one of the benefits of this virtual format is the tangible reduction in greenhouse gas emissions and use of resources overall."
The ICSI program runs through Friday, Oct. 10, including a variety of panels, "hot topic" sessions, technical tours, and networking sessions.
All with an eye toward this being the time for action.
As Prince Albert II of Monaco said at ICSI, "I'm therefore counting on each one of you and ASCE to meet this extraordinary challenge."