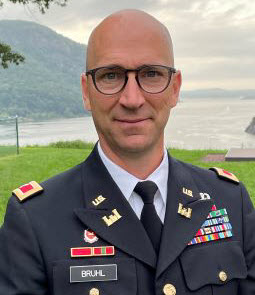 Col. Jakob Bruhl, Ph.D., P.E., F.ASCE, a U.S. Army Engineer officer for the past 25 years, has been named a fellow by the ASCE Board of Direction.
During his career, Bruhl has planned, led, and managed construction in support of military operations around the world. He is currently serving as an associate professor and the Civil Engineering Program Director at the United States Military Academy, West Point, New York. In this role, he leads the ABET-accredited program that graduates civil engineers for service in the U.S. Army and teaches engineering mechanics, structural analysis, and design courses.
As an educator, Bruhl has won national, regional, and local teaching awards recognizing his excellence in the classroom and his devotion to inspiring future civil engineers. He creates active learning experiences in the courses he teaches and integrates ways to help students develop their creativity skills. He mentors and advises senior design projects related to infrastructure development and protective structures.
In addition to teaching, he has conducted experimental and numerical research to develop analysis and design methods for steel-plate composite structures to resist blast and impact loads. This work has informed current design provisions for the nuclear power industry through AISC N690, Specification for Safety-Related Structures for Nuclear Facilities, and is being incorporated in revisions of ASCE 59, Bast Protection of Buildings. He continues to investigate methods to improve protection of buildings composed of a variety of materials.
Bruhl serves as an associate editor of the Journal of Structural Engineering, a member of the ASCE Blast, Shock, and Impact Committee, and a member of the ASCE Blast Protection of Buildings Standards Committee. He is also active in the American Society of Engineering Education (ASEE), where he serves as a director of the Mechanics Division and a member of the Civil Engineering Division.
Additionally, he serves the profession as a committee member for the Fundamentals of Engineering Exam (Civil) through the National Council of Examiners for Engineering and Surveying (NCEES).