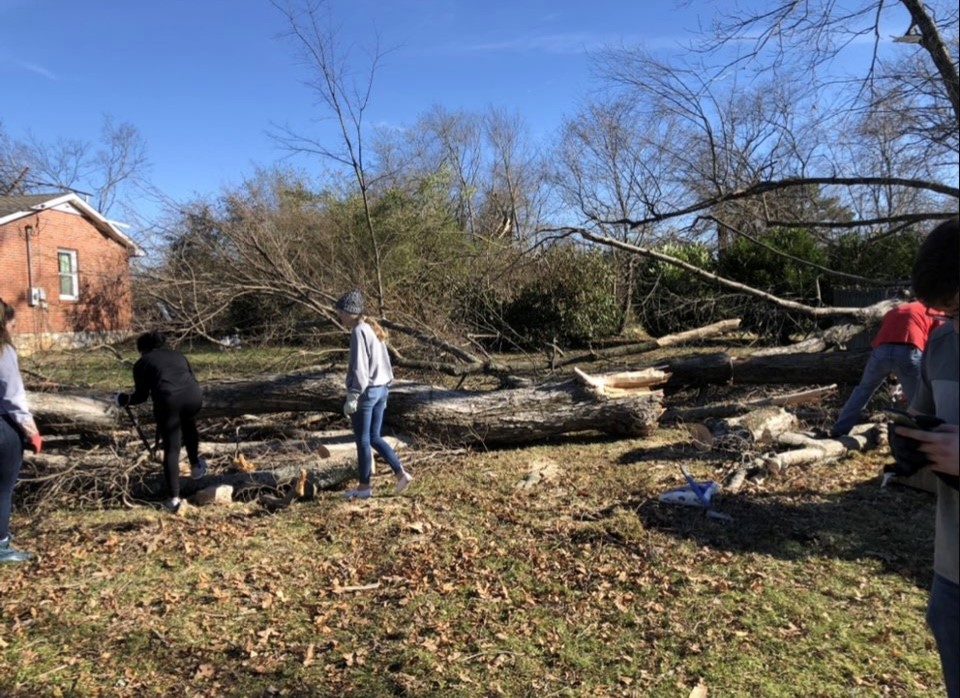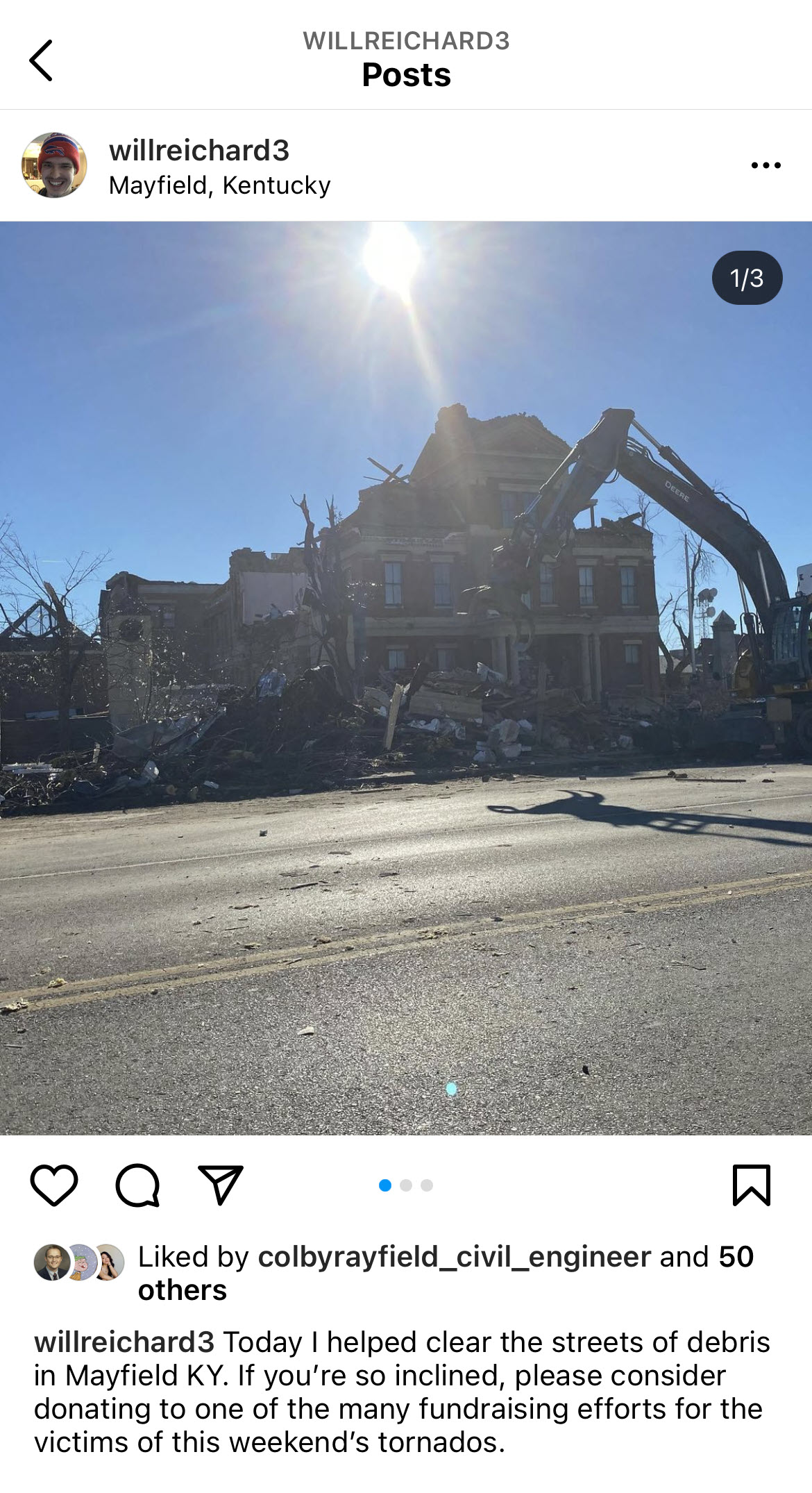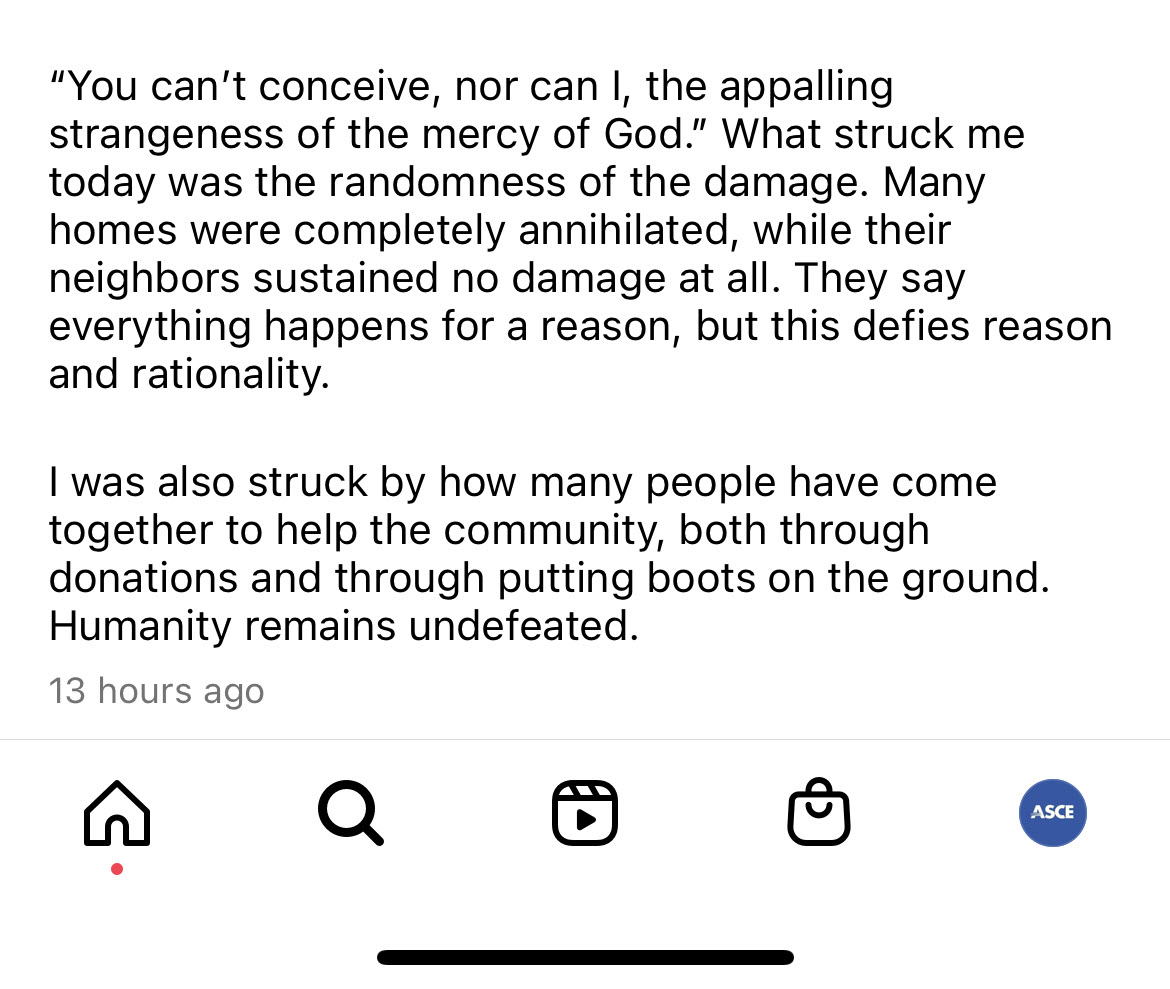 Jason Wilson had an uneasy feeling all day long. Seventy degrees in December in western Kentucky is not normal.
"I remember waking up that morning and saying, 'Tonight's not going to be a good night,'" recalled Wilson, P.E., M.ASCE, faculty advisor for the Western Kentucky University ASCE student chapter.
"When it's that hot going into that cold, good things don't happen."
Tragically, Wilson's fears proved correct, as later that Dec. 10 day and into the night, an unprecedented line of tornadoes swept through Arkansas, Illinois, Tennessee, and Kentucky, killing dozens and leveling property.
Wilson, whose own home was spared any damage, didn't wait around to see what he could do in the aftermath. He was out clearing roads for emergency services Saturday morning. On Sunday, he joined a group of 20 students from Western, along with other engineering alumni and even some students' parents, to help clean up nearby property damage. Monday, it was another nearby house with fallen trees and a leaky roof. Tuesday, he met with officials from the National Weather Service to evaluate the category of the storm.
"We're just trying to get things back to somewhat normal, but I know that's going to be a long time," Wilson said. "We're trying to get it cleaned up one tree at a time."
And they're not alone.
Social media feeds filled this week with people helping the affected communities, and ASCE members and civil engineers, as is typically the case in similar post-disaster situations, were front and center helping. Wilson attributes it to the nature of the profession.
"I don't know if it's just our willingness to jump in and help or what," Wilson said. "And I can't say it's just civil engineers. The community as a whole has helped so much.
"But as civil engineers, we take that oath to protect the health, safety, and welfare of the public. We like to look out for the community and give back to those who are less fortunate in these instances. That's our oath."
Donate to tornado relief
These reputable national organizations are raising funds to help those ravaged by the tornadoes that tore through six states Friday-Saturday, Dec. 10-11.
American Red Cross has opened shelters. Both its national arm and its Western Kentucky local chapter are collecting donations.
AmeriCares: The health-focused relief group has sent an emergency team to Kentucky and has offered aid to health care facilities in several states. The organization is welcoming donations.
CARE: The organization that works with impoverished communities is collecting funds to provide food, cash, and clean water.
Feeding America: The group is raising funds to help provide ready-to-eat bags of food.
Global Giving: The D.C.-based nonprofit has established a Midwest US Tornado Relief Fund.
GoFundMe: A centralized hub hosts verified fundraisers to help those affected.
The Salvation Army is soliciting donations to help victims in Arkansas, Kentucky, and Tennessee.